"How far is it from, how far is it from,
Walk through the storms, go through the storms."
— Storms in Africa, Enya
Urban Patterns | El Tikkawin, Sudan
by Dr. Mark David Major, AICP, CNU-A
El Tikkawin is a settlement located on the Upper Nile River in Sudan at 18°13'12" north of the equator and 33°55'12" east of the Greenwich Prime Meridian. Demographic and population data is not readily available but it appears to be a large town. The town is located adjacent to rich agricultural lands associated with the seasonal flooding of the Nile River. A large-scale (in relative terms) regular grid characterizes the largest area of the town, probably reflective of thousands of years of Egyptian influence in the Upper Nile region. Within the interstitial areas of the regular grid are the more intricate street networks more commonly associated with Middle Eastern settlements. This is a similar model to American suburban sprawl in the 20th century with the important exception that the interstitial street networks in El Tikkawin do not eliminate almost entirely connections at the periphery of the interstitial area, which is the case in the worst examples of American suburban sprawl.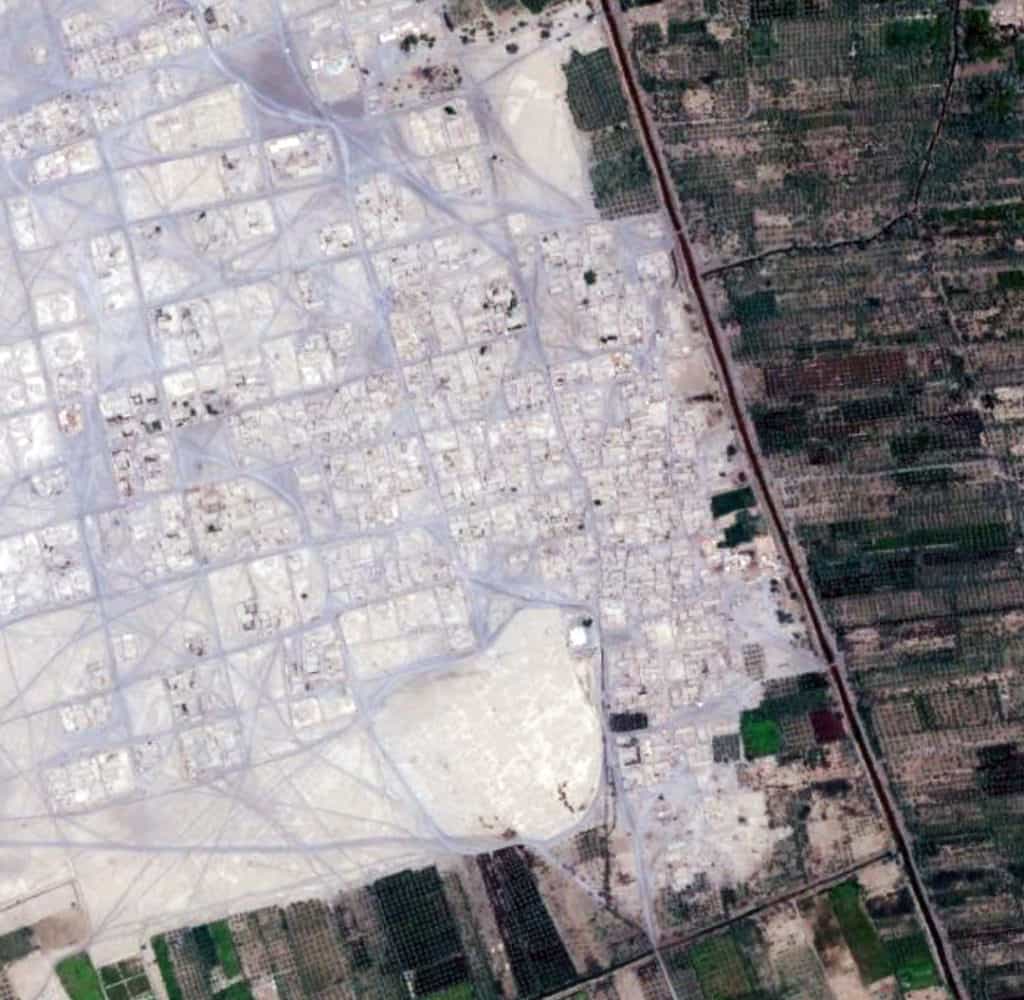 This suggests a more sustainable and compact spatio-functional model in El Tikkawin compared to the dysfunction associated with American suburbs (being almost entirely auto-dependent). The regular grid is mostly absent in what appears to be the oldest section of El Tikkawin (to the right, immediately adjacent to Upper Nile agricultural lands). This oldest part of town is mostly characterized by a deformed grid layout. Finally, for anyone who ever criticized space syntax by asking to be shown an axial line… well, here they are… marked in the landscape. Tracks mark the path through large (undeveloped) open spaces to-and-from the surrounding agricultural lands and other parts of El Tikkawin as people linearized their use of space during their everyday activities.
(Updated: March 24, 2017)
Urban Patterns is a series of posts from The Outlaw Urbanist presenting interesting examples of terrestrial patterns shaped by human intervention in the urban landscape over time.