"I was just trying to do my best, trying to get from A to B, do a little shopping. I was trying to take control of my life…" – Edina Monsoon
Sunday's Boston Globe article "The too-smart city" by Courtney Humphries reminded me of one of my favorite and funniest (implicit) critiques of urban planning: Edina Monsoon's "Tax the Stupid People" rant from a 1994 episode ("Poor") of Absolutely Fabulous. I thought I would post it for your amusement because sometimes we all need a reminder and laughter about the absurdities of life. The first time I saw this I was in tears from laughing so hard, especially once Patsy interjects her opinion.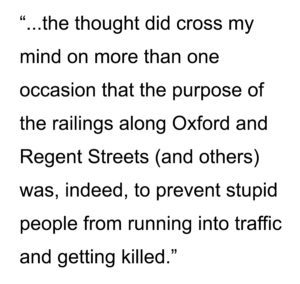 No doubt the reason I found this rant so funny was, having lived in London for 8 years, the thought did cross my mind on more than one occasion that the purpose of the railings along Oxford and Regent Streets (and others) was, indeed, to prevent stupid people from running into traffic and getting killed. Of course, this is not the case. Instead, the purpose of the railings is to corral pedestrians on the sidewalk in areas with high foot traffic (like pigs in a pen) so the majority of street space is reserved for automobile traffic. London's railings are fundamentally anti-pedestrian, pro-automobile planning measures. God forbid if pedestrians occupy more of the street space for their use to the detriment of keeping traffic moving! So, the real purpose of the railings was to prevent stupid drivers in 5-ton death machines from killing pedestrians, awarding 'exclusivity' of street space to these drivers when we should be slowing the traffic down in deference to pedestrians. In the late 1990s, London has begun to learn and adjust to this lesson. When I visit London (hopefully) sometime in the next 4-6 months, I'm eager to see for myself how far they have taken the lesson over the last decade. I like to think Eddie's satirical rant played a small role in changing the dynamic.
A more complete transcript of Eddie's rant in her audacious – but ultimately doomed – attempt to evade a parking ticket is below.
Eddie: Right – I, the proposed accused, think that, well, I mean, you know, well the day in question was not a good day for me, all right? But I put it to you that I don't see how any day could have been good the way this bloody country's run. Well, you know, I was just trying to do my best, trying to get from A to B, do a little shopping. I was trying to take control of my life, you know, only to find that it's actually controlled for me by petty bureaucracy and bits of bloody paper – ignorant bloody petty rules and laws that just obstruct every tiny little action until you've committed a crime without even knowing it! I mean, you know, why can't life just be made a little easier for everybody, eh? Why can't it be more like the Continent, and then run down the street in front of charging bulls whilst letting fireworks off out of his bloody nostrils without anyone blinking an eye? Uh? Because it's probably a local holiday and nobody's at work because they all want to have just a little bit of fun and they're not intimidated by some outdated work ethic. I mean, there has to be more to life than just being safe…
Judge: Is there a point to all of this?
Eddie: Yes, Yes!… Why, oh why, do we pay taxes, hmmm? I mean, just to have bloody parking restrictions- and BUGGERY-UGLY traffic wardens, and BOLLOCKY-pedestrian-BLOODY-crossings?… and those BASTARD railings outside shops windows, making it so difficult, so you can't even get in them! I mean, I know they're there to stop stupid people running into the street and killing themselves! But we're not all stupid! We don't all need nurse-maiding. I mean, why not just have a Stupidity Tax? Just tax the stupid people!
Patsy: And let them DIE!