The City's Essential DNA and its Pattern covers the most essential aspects of physical form at work in the design of all cities from older, highly-localized urban grids in the Middle East/Africa to deformed grids in Europe to regular grids in the United States/Americas.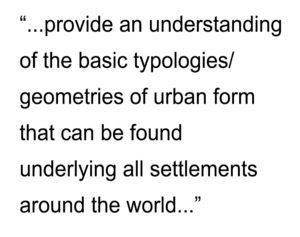 All cities utilize these (usually geometric) properties, though the scale at which they are realized will tend to vary during urban growth in defining a distinctive spatial culture. The purpose is to provide an understanding of the basic typologies/geometries of urban form that can be found underlying all settlements around the world, to one degree or another (1.0 hour course).
Key concepts: grid expansion, block manipulation, linear extension, grid deformation, discrete separation, and urban blocks.
Instructor: Dr. Mark David Major, AICP, CNU-A
Check here to purchase this course ($9.99), which includes an one-hour video presentation and PDFs of the course notes and slide handout.
Note: We are beta-testing with these initial course offerings so if you have any issues accessing the course material, please do not hesitate to contact us at courses@outlaw-urbanist.com. Thank you!