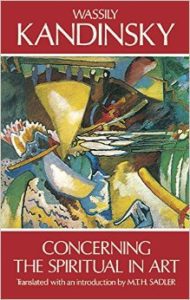 FROM THE VAULT
Concerning the Spiritual in Art by Wassily Kandinsky
"It is the conviction that nothing mysterious can ever happen in our everyday life that has destroyed the joy of abstract thought."
Students and aspiring artists will find the entirety of Concerning the Spiritual in Art by Wassily Kandinsky a fascinating read. Throughout, Kandinsky attempts to lay out a theory of art through analogy to the composition of music. In doing so, Kandinsky is explicitly seeking to promote the inner expression or spirituality of the artist in the creation of a truly abstract art. For architects, urban designers, and urban planners, it is likely that they will find particular sections of Concerning the Spiritual in Art more useful to their own area of interest than others in the book; in particular, page 21-45 on the psychological effect and language/form of color. As might be expected from an artist of Kandinsky's standing, he has some very interesting and insightful ideas about the use and mixture of colors in composition. It seems like some of these ideas might prove useful application in the built environment, especially for those who find themselves constrained in an oppressive world of beige. Certainly, the use of color in the built environment appears to be a poorly understood subject, especially in the United States. It couldn't hurt for some professionals to better understand the topic.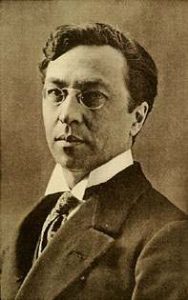 About Wassily Kandinsky
Wassily Kandinsky (December  16, 1866 – December 13, 1944) was an influential Russian painter and art theorist. He is credited with painting one of the first purely abstract works. Born in Moscow, Kandinsky spent his childhood in Odessa, where he graduated from Grekov Odessa Art school. He enrolled at the University of Moscow, studying law and economics. Successful in his profession, he was offered a professorship (Chair of Roman Law) at the University of Dorpat. Kandinsky began painting studies (life-drawing, sketching and anatomy) at the age of 30. In 1896, Kandinsky settled in Munich, studying first at Anton Ažbe's private school and then at the Academy of Fine Arts. He returned to Moscow in 1914 after the outbreak of World War I. Kandinsky was unsympathetic to the official theories on art in Communist Moscow and returned to Germany in 1921. He taught at the Bauhaus school of art and architecture from 1922 until the Nazis closed the school in 1933. He then moved to France, where he lived for the rest of his life, becoming a French citizen in 1939 and producing some of his most prominent art (Source: Wikipedia).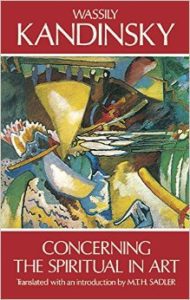 Concerning the Spiritual in Art by Wassily Kandinsky
Paperback (76 pages), English
CreateSpace Independent Publishing Platform (June 11, 2010)
ISBN-13: 978-1453627426
ISBN-10: 1453627421
You can purchase Concerning the Spiritual in Art by Wassily Kandinsky on Amazon here.
From the Vault is a series from the Outlaw Urbanist in which we review art, architectural and urban design texts, with an emphasis on the obscure and forgotten, found in second-hand bookstores.