On Space | The City as Life Revealed
by Dr. Mark David Major, AICP, CNU-A
A city is a thing made of space. This space is infinite in its redundancies and strategic in its provision, full of potentials simultaneously realized and unrealized, required and unnecessary. It is a thing that both demands and defies analysis, of scholarly inquiry and sensory experience. A city is congruently an organism and a machine, a system of parts and part of a larger system joined in sustaining each other, related to itself and the world outside arbitrary boundaries drawn on a map. All of the city's parts are strangely familiar yet also comforting in their distinctiveness from the Other. In the same manner, the whole pattern of cities obeys consistent rules, derived from existential truths, bound by gravity and our bipedal nature, always in the movement from here to there and back again. Yet no two cities are ever the same. We define similarities and differences to unveil their distinctive nature as urban objects. Meaning often derives from the mathematical artifice of geometrical assignment, daring to create and name our world in the image of the Geometer, in the same manner as we were created in Theirs. The power in the assigning is undeniable. On this basis, we parcel the fertile land by means of economy, far into the clouded past and the "undiscovered country" of the future, beyond the death of the present. From this emerges meaning and function, a city of light and sound, movement and life, each particular in their own way but also a simulacrum of all that has come before and will arrive again. There is power in the disorder of the city and a power of
On this basis, we parcel the fertile land by means of economy, far into the clouded past and the "undiscovered country" of the future, beyond the death of the present.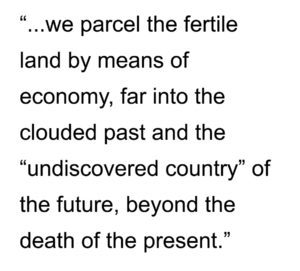 From this emerges meaning and function, a city of light and sound, movement and life, each particular in their own way but also a simulacrum of all that has come before and will arrive again. There is power in the disorder of the city and a power of magnitude to be discovered in its orderly manifestation. Neither is greater than the other nor the sum of the parts. Within this (dis)order we live and function, day to day, year to year. We shape and are shaped by the space of the city, we utilize its strategic provisions for seeing, going, and being and its infinite redundancies to pause, understand, reflect, perhaps even decide. The light we shine on the city reflects upon ourselves and, in seeking to better understand the city, we learn to incrementally know ourselves. The city is both static in the moment and dynamic across the seconds. It can be understood all at once but its parts in isolation are – often so – the genesis of intellectual aberration. The organism grows but the machine still operates and we are befuddled. The city is at once process and product, the thing already made and in the process of becoming, the Father seeding the land, the Mother birthing the child, and the child being born, a Trinity upon itself. However, this is not a Mystery of faith but a failure of understanding. We must conjecture, we must believe, we must hypothesize, and we must dissect and reassemble if we hope to intervene with wisdom in the space of the city. Let us delve into Beingness of the city to better understand its nature with hope and expectation instead of fear and trepidation. It is life revealed.
On Space is a regular series of philosophical posts from The Outlaw Urbanist. These short articles (usually about 500 words) are in draft form so ideas, suggestions, thoughts and constructive criticism are welcome.