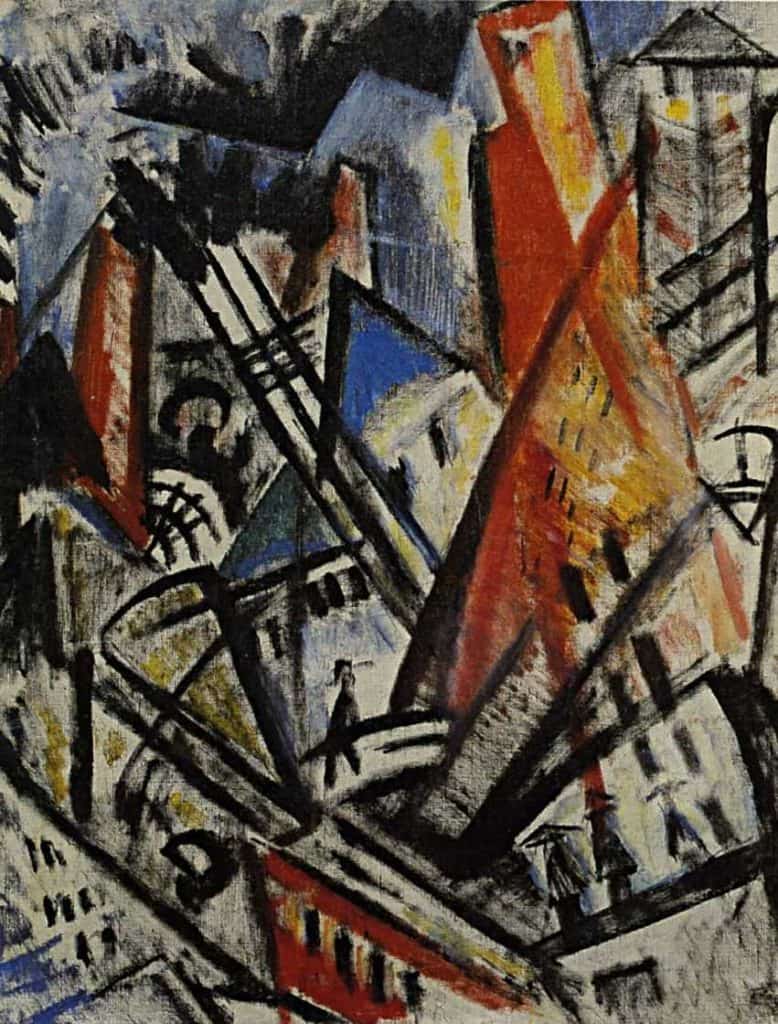 The Kinetic City | The City in Art
by Dr. Mark David Major, AICP, CNU-A

Olga Rozanova has been labeled a Futurist, a Cubo-Futurist, and Suprematist (focused on geometric forms and a limited range of colors, see Piet Mondrian's Neo-Plasticism), all of which places her in the middle of the early 20th century Russian Avant Garde Movement. The number of works she completed is impressive both in terms of the quality, many of her abstracts are intricately beautiful, and quantity, given her untimely death at such a young age (see this Pinterest page). However, the quality and quantity of her work ultimately – and sadly – indicates her unfulfilled promise as an artist. Because of this, her contemporaries have largely overshadowed Rozanova.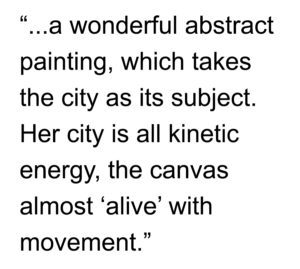 Olga Rozanova's City (1916) is a wonderful abstract painting, which takes the city as its subject. Her city is all kinetic energy, the canvas almost 'alive' with movement. Her painting builds on the Cubist tendency to compress time and space into a single glance at a subject, which conveys a plenitude of information to the viewer. This, in itself, builds on the earlier Impressionist technique, which included movement as a crucial element of human perception and experience in the painting. However, in the case of Cubism, it is not the movement of human perception that depicted in the painting but rather the movement and energy inherent in the subject itself across time and space, which is both compressed and captured in the representation. Olga Rozanova's City is a brilliant look at all that is inherent in the city: people, buildings, movement, transportation, streets, setting, and light. The city she depicts is not an inanimate object but an animate organism worthy of our attention. I love this painting.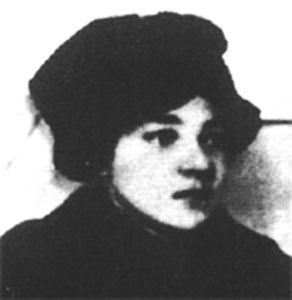 About Olga Rozanova
Olga Rozanova (1886-1918) was born in 1886 in Malenki, Vladimir province in Russia. She trained at the Bolshakov Art School and the Stroganov School of Applied Art in Moscow. In 1911, she moved to St. Petersburg where she became an active member of the Union of Youth Group, exhibiting with them regularly from 1911 to 1914. She also attended the Zvantseva School of Art from 1912 to 1913. In 1912, Rozanova began illustrating books of Futurist poetry written by her husband, Aleksey Kruchonykh. She also wrote trans-rational Futurist verse (sound poetry), experimented with Cubism and Futurism in painting, produced abstract constructions, and created Suprematist embroidery and textile designs. By 1917, she had developed a completely individual abstract style of painting. After the Revolution in 1917, she supervised the reorganization of craft workshops in provincial towns. She died in Moscow on November 8, 1918, due to diphtheria at 32 years of age.
The City in Art is a series by The Outlaw Urbanist. The purpose is to present and discuss artistic depictions of the city that can help us, as professionals, learn to better see the city in ways that are invisible to others. Before the 20th century, most artistic representations of the city broadly fell into, more or less, three categories: literalism, pastoral romanticism, and impressionism, or some variation thereof. Generally, these artistic representations of the city lack a certain amount of substantive interest for the modern world. The City in Art series places particular emphasis on art and photography from the dawn of the 20th century to the present day.