"There's a tent in the center of town,
Where the people can gather around."
— Tent in the Center of Town, Sara Groves
Urban Patterns | Ulaanbaatar, Mongolia
by Dr. Mark David Major, AICP, CNU-A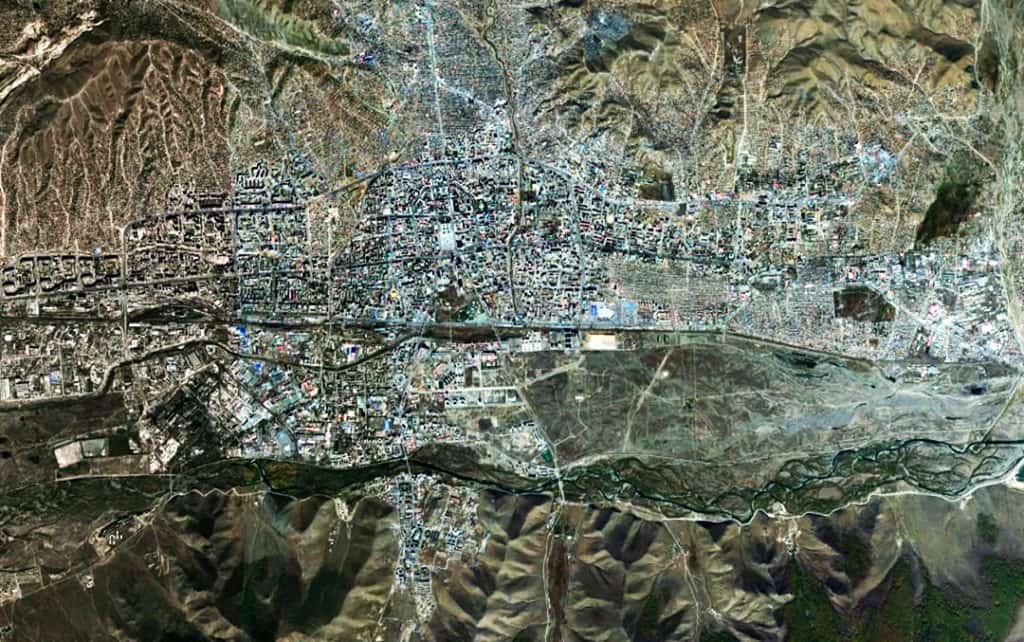 Ulaanbaatar, Mongolia is a fascinating settlement for a variety of reasons. The city was founded in 1639 as a movable (i.e. nomadic) Buddhist monastic center. In 1778, it settled permanently in its present location at the junction of the Tuul and Selbe rivers. Before that, it changed location 28 times with each site selected for ceremonial reasons (Source: City of Ulaanbaatar). At first glance from 60,000 feet (see above), the urban pattern appears to be strongly characterized by a predominantly linear structure oriented to the Tuul River, the Trans-Siberian railway line, and Peace Avenue, all of which (more or less) runs parallel to each other in an east-to-west direction. However, this is somewhat misleading due to radical differences in building scale between (mainly) residential areas in the periphery and the non-residential areas of the settlement in the city center. This is clearer in a view of the settlement from 20,000 feet (see below), which reveals the street network is actually a deformed grid layout, very characteristic of European towns. The difference in the scale of building construction in the city center (large buildings and blocks) compared to the surrounding residential areas (small buildings in elongated blocks) is quite distinctive.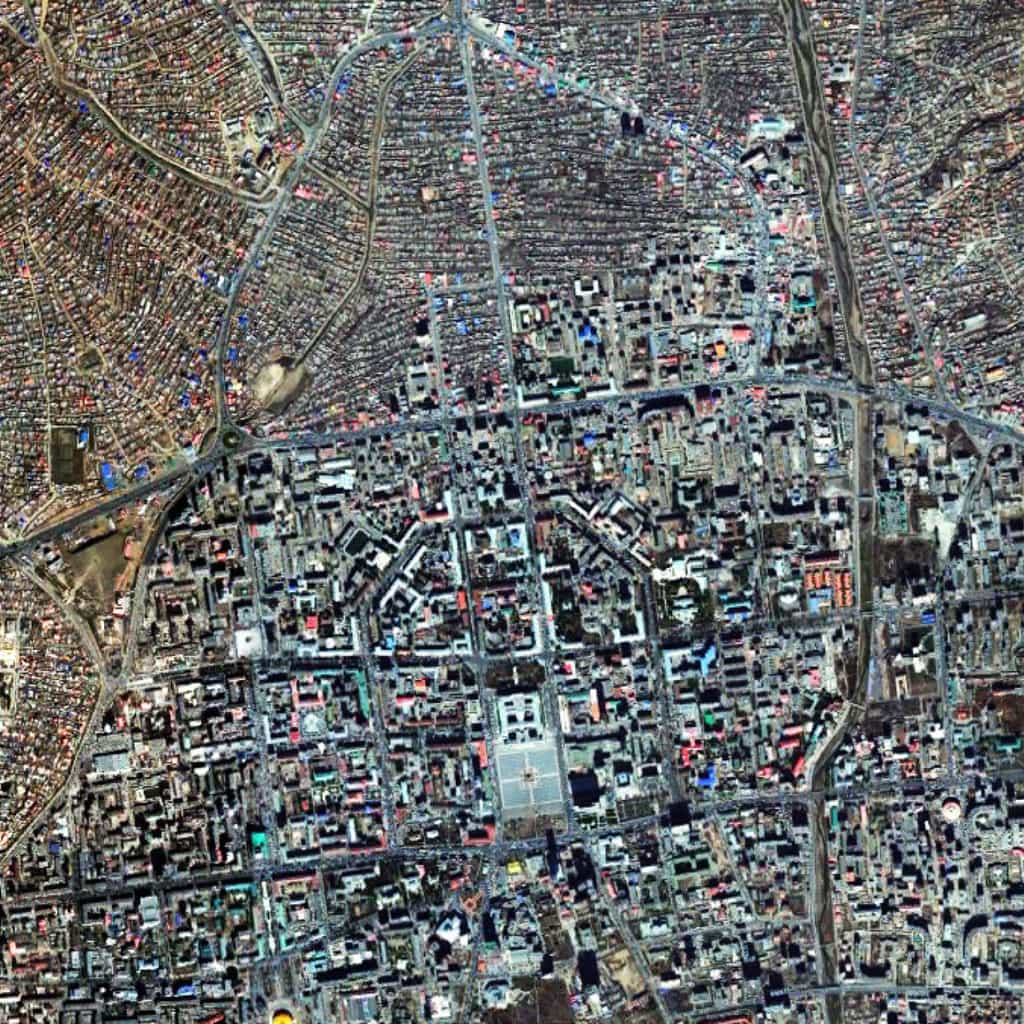 Closer examination of a residential area reveals a reason for the radical differences in building scale in the settlement (see below view from 6,000 feet). The residential area is characterized by walled compounds, many of which have a yurt (circular structure generally in white in the below image). A yurt is a portable, bent dwelling structure traditionally used in nomadic cultures from the steppes of Central Asia. The structure comprises a crown or compression wheel usually steam bent, supported by roof ribs which are bent down at the end where they meet the lattice wall (again steam bent). The top of the wall is prevented from spreading by means of a tension band which opposes the force of the roof ribs. The structure is usually covered by layers of fabric and sheep's wool felt for insulation and weatherproofing (Source: Wikipedia). Many of the compounds also have a permanent structure, which tends to have colorful roofs. All of these physical features, combined with the nomadic origins of the settlement, makes Ulannbaatar one of the most fascinating urban patterns on our planet.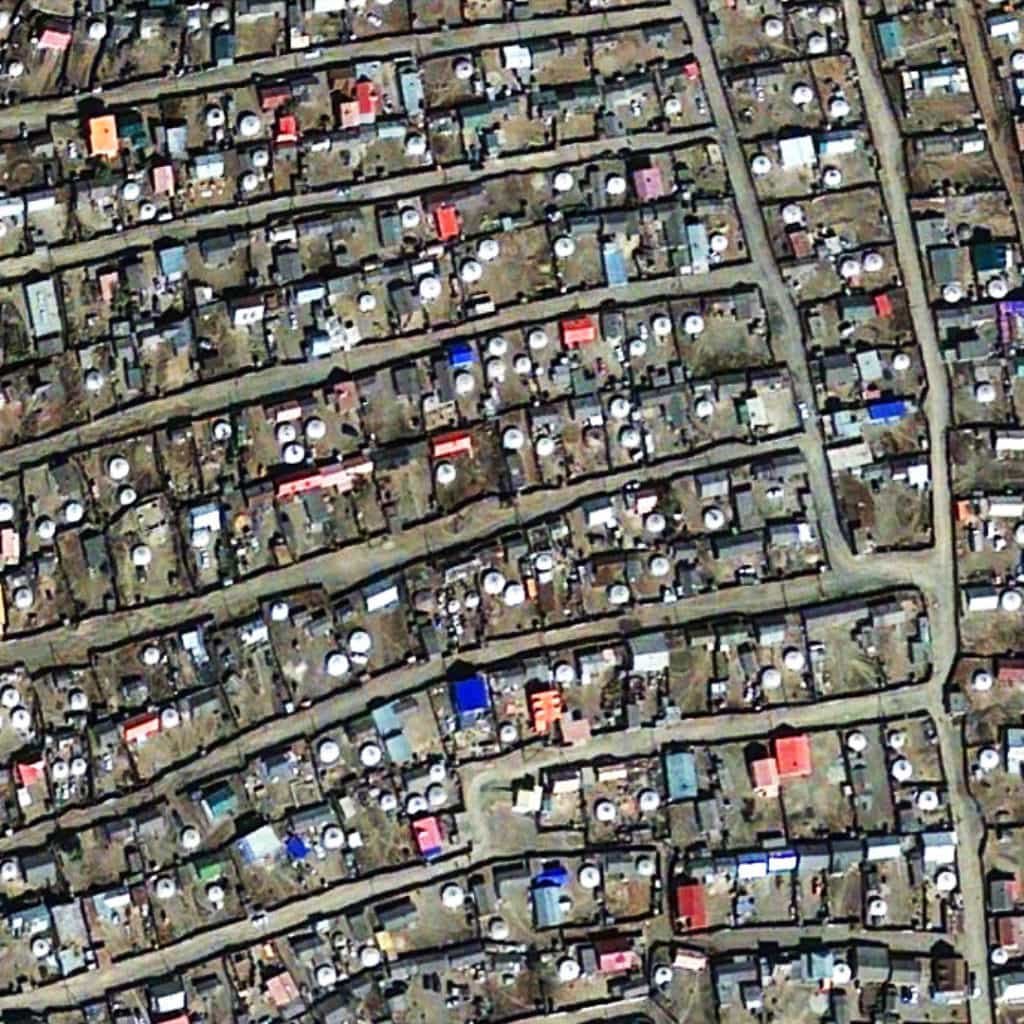 (Updated:  May 12, 2017)
Urban Patterns is a series of posts from The Outlaw Urbanist presenting interesting examples of terrestrial patterns shaped by human intervention in the urban landscape over time.