"Jack be nimble, Jack be quick. Ohhhh.
Take a ride on the West Coast kick. Ohhhh.
Holiday roooooaaaad, ohhhhh."
— Holiday Road, Lindsey Buckingham
Urban Patterns | Disneyland | Anaheim | California USA
by Dr. Mark David Major, AICP, CNU-A
Purportedly the happiest place on Earth, Disneyland is located in Anaheim, California about 30 miles from Downtown Los Angeles. Opened in 1955, Disneyland is the only theme park designed and built under the direct supervision of Walt Disney. Walt Disney came up with the concept after visiting various amusement parks with his daughters in the 1930s and 1940s. He initially envisioned building a tourist attraction adjacent to his studios in Burbank to entertain fans who wished to visit; however, he soon realized that the proposed site was too small. After hiring a consultant to help him determine an appropriate site for his project, Disney bought a 160-acre (65 ha) site near Anaheim in 1953. Construction began in 1954 and the park was unveiled during a special televised press event on the ABC Television Network on July 17, 1955 (Source: Wikipedia).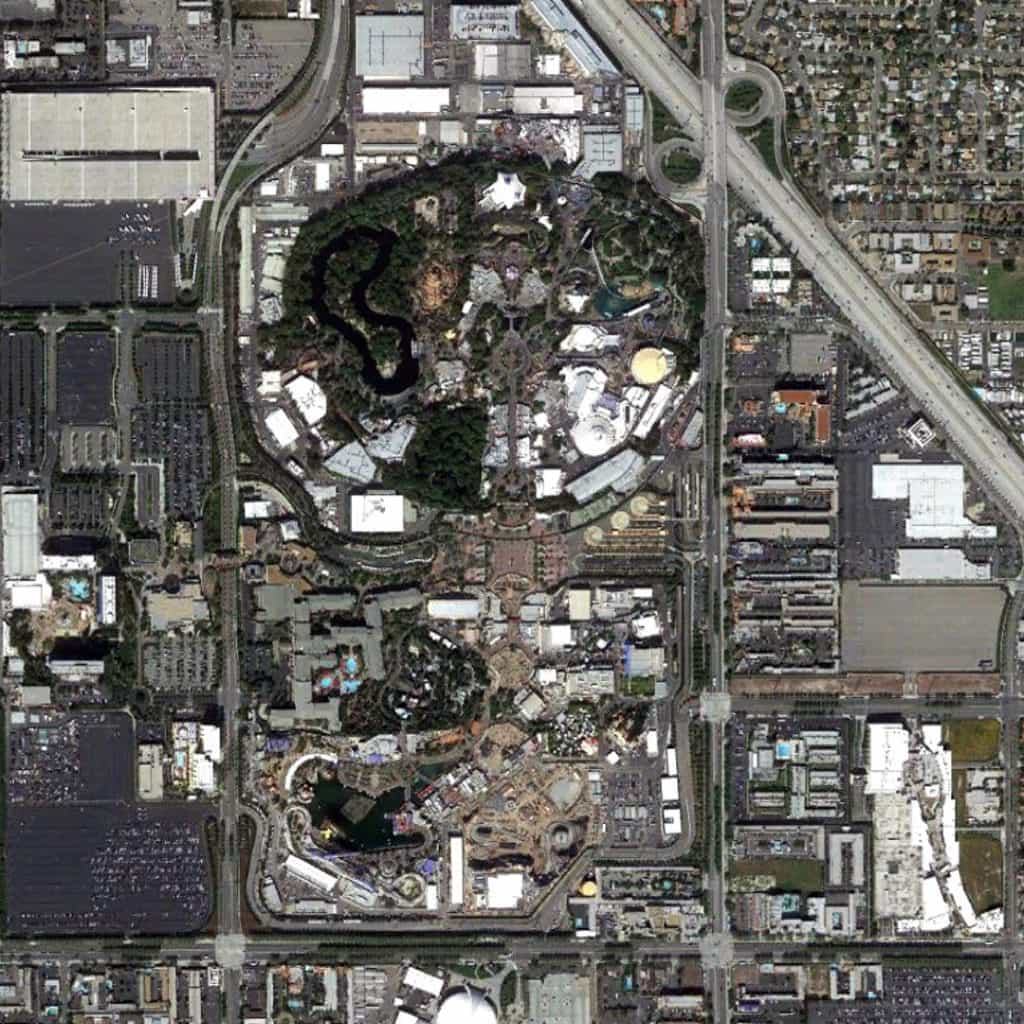 It is not a surprise to discover acres of surface parking servicing the park, which also represents the hottest place in the urbanized areas of Southern California (literally, not metaphorically). The pink ramparts of the Disney castle are visible in the center of the above image. The overall shape of the original park was circular (discounting later expansions) with the famous Disney Main Street running from the main gate in the south towards the north, defining a ceremonial axis that terminates on the castle. Pirate's Lair on Tom Sawyer Island (see Mark Twain's The Adventures of Tom Sawyer) is located to the northwest of the park. Tomorrowland is located to the eastern edge of the park (though I suppose nowadays it could be more easily called Todayland). The highway adjacent to Disneyland at its eastern edge is Interstate 5 aka Santa Ana Freeway. To get there from Santa Monica: take Olympic to I-10, then to I-5 south but avoid the 4-0-5 at all costs, like fer sure.
(Updated: June 25, 2017)
Urban Patterns is a series of posts from The Outlaw Urbanist presenting interesting examples of terrestrial patterns shaped by human intervention in the urban landscape over time.