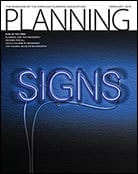 Planning Naked | February 2016
by Dr. Mark David Major, AICP, CNU-A, The Outlaw Urbanist contributor
February must be the 'clear the backlog' month for the editors of Planning Magazine because this month's issue is a strange mixture of useless fluff and wrong-headedness where the eternal bogeyman of the planning profession, e.g. 'lower property values and higher crime,' keeps making a spectral appearance in the articles, one way or another. This makes it extremely difficult to pull much of value out of this issue but we'll try anyway.
James M. Drinan's "From the Desk of APA's Executive Director" (pp. 3) editorial does not really say much of anything except "we're re-launching the APA Foundation charity but we don't know why." Here's an idea: provide some leadership. Student loan debt in the United States has reached record levels ($1.2 trillion dollars in 2015, according to USA Today) that threaten another financial cataclysm. Why doesn't the neo-APA Foundation concentrate on meaningful and substantive scholarships for the college education of young planners? There, done, leadership. Sometimes, APA's insistence on 'navel gazing' reaches ridiculous levels.
"A Transportation Bill, At Last" by Jon Davis (pp. 8-9) is combines two things that a lot of planners love the most in this world: acronyms and money. Here's the long and short of the Fixing America's Surface Transportation Act (FAST Act… oh, a cool acronym… that must mean it's important because it's fast!): for every $1 spent on the automobile (e.g. roads), the US Government is spending 0.24¢ on buses and 0.04¢ on passenger rail. It must be great to be a Washington lobbyist for the 'automobile cartels'. To quote a song from the 1977 Disney film, Pete's Dragon, it's "money, money, money by the pound!" "He that is of the opinion money will do everything may well be suspected of doing everything for money." – Benjamin Franklin
The short bit (pp. 9) about Chicago investing $32 million in bus rapid transit for the Loop is a comedy of errors. Doesn't Chicago already have one of the best passenger rail systems in the United States in 'the L', for which the Loop has already been well served for decades? What is the point of this investment other than to waste money? "Critics say so far it is falling short of the mark (BRT average speed is 3 miles per hour)." Well, of course. That money would have been better invested in 'the L'..
"Dog Parks on the Rise" (pp. 10) is an interesting piece. I have a dog and she's part of my family, too. However, it also potentially plays into the planning profession's 'regular out' to provide real solutions for urban problems by instead proposing a park instead because 'who can object to a park?' I can. Too often, Landscape Urbanism is code for political cowardice. Let the buyer beware.
"Slight Change of Plans" by Rebecca Leonard and Joe Porter (pp. 12-19) is a dishonest piece. You know that any article that begins with "Here are a few names that will be familiar to planners: Jim Rouse, Bob Simon, George Mitchell, and Ben Carpenter" is setting up the reader for a fall. I am extremely well read in architecture, planning and urban design and I have never heard of any of them. It doesn't anything say about me as a planner or reader. It says a great deal about Rouse, Simon, Mitchell and Carpenter and, by implication, this article. Here's what you need to know. Unknown Person 1: Let's not call it suburban sprawl. Let's call it community development (code for Planned Unit Development, e.g. PUD). Unknown Person 2: Then we can't call it sprawl repair. Let's call it things such as "work in progress", "change", and "shift." I find it hard to believe Leonard and Porter actually wrote the article this way (as I recall, previous articles from Design Workshop were more intellectually honest). I suspect the editors of Planning Magazine have interjected themselves into this article. See the aerial and street view of Columbia, Maryland below. Behold the sprawl and beautiful parking lots!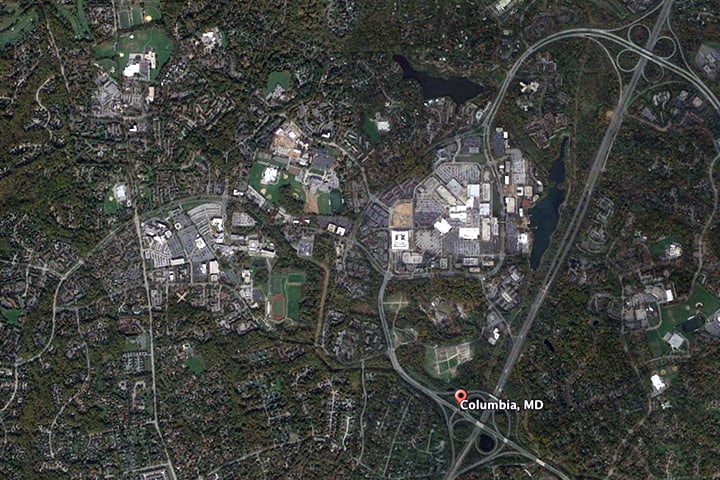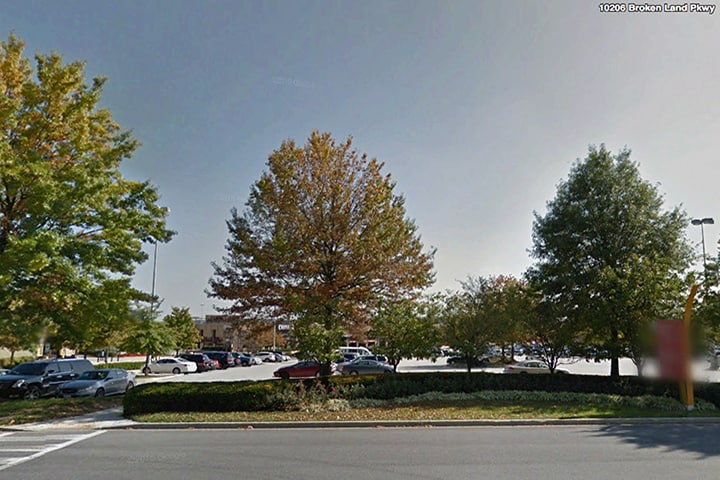 "Planning and the Presidency" by Elizabeth Wood (pp. 24-28) is a ridiculous piece of nonsensical fluff with a pro-Hillary Clinton message deeply buried within the article. Planning Magazine actually printed Wood's notes about the menu at different events! Are you kidding me? There is actually an interesting anecdote in Wood's article about how Donald Trump deftly handled an angry voter at one of his events, which is informative. Otherwise, this article has very little to say about the presidential candidates because Wood is asking the wrong questions ('Are you willing to put a planner in a cabinet seat?') based on the wrong premise (top-down solutions).
"Could You BnB My Neighbor?" by Jeffrey Goodman (pp. 29-33) is worth the read as long as the reader does not swallow wholesale Goodman's argument about the sharing economy. Here are the key words and phrases of Goodman's article. "Home owners have taken in lodgers since the first settlement of cities." This is the absolute, most important point about AirBnb and others in the sharing economy. It is normal. "Where does AirBnB pay its share?" Now we get to the real crux about what is really going on: namely, a money grab by local governments to secure more tax revenues and steal more money out of people's pockets. Personally, I know several people whose homes were saved from foreclosure by the banks because of AirBnb and the sharing economy. And, as we all know, it is the government (through FreddieMac and FannieMae) who is really standing behind these banks because they are in (and lining) their pockets. The raising of the eternal bogeyman of NIMBYism in lower property values and higher crime only makes more transparent the self-serving arguments of those opposed to the sharing economy. Let's fight for the normal, not the abnormal created in 1926 by the U.S Supreme Court.
"Tiny House: Niche or Noteworthy?" by Anne Wyatt (pp. 39-42) is probably the best article in this month's issue though the attempt to take a 'neutral' stance about tiny houses is strange (again, I suspect the editors for adding the question mark in the article title). The tiny house movement is one of the most important things happening in the United States today and, ultimately, this fact shines through in Wyatt's article. As Wyatt says, "The tiny house movement offers opportunity for planners to look at some the planning assumptions." Lots of planners don't like to re-examine their assumptions because they know they'll end up making an ass out of you and me ('assume'), so to speak. Yeah, so let's keep putting 650 square foot homes on a minimum 1/4 acre lot. OMG! Density lowers property values and increases crime! 
"Zoning with Stipulations" in The Commissioner by Margaret Wilson and Tom Awai (pp. 48-49) overlooks the main point about zoning stipulations. It is the concept of zoning itself that is fundamentally flawed so you have to have stipulations for legal and practical reasons to compensate for that flaw. Teaching commissioners about zoning stipulations is like placing a Band-Aid over an open wound. Perhaps planners should think about healing the wounds that zoning has open up all over our urban landscapes in the post-war period? Just a thought…
"Contribution of Urban Design Qualities to Pedestrian Activity" by Reid Ewing (pp. 50-51) is both interesting and disappointing, especially given the quality of Ewing's previous articles in Planning Magazine. While I have no doubt there is a beneficial effect of transparency (e.g. windows) at street level for urban design and pedestrian activity (see Jacobs' "eyes on the street" or why traditional street-based retail land uses have windows), it is seriously doubtful that the relationship is direct and causal, as Ewing's article indicates. By his own admission, Ewing's study did not account for the most important component, i.e. linkages. In fact, I suspect there is either: 1) a lot more to Ewing's study than he is telling us; and/or, 2) his findings are a statistical artifact of this more important component, i.e. the urban street network itself.
Planning Naked is a regular feature with observations and comments about a recent issue of Planning: The Magazine of the American Planning Association.