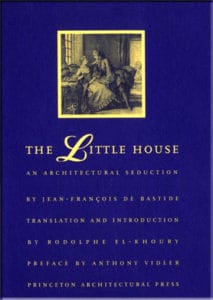 FROM THE VAULT
The Little House: An Architectural Seduction
By Jean-François de Bastide (Translated by Rodolphe el-Khoury), Preface by Anthony Vidler
Review by Dr. Mark David Major, AICP, CNU-A, The Outlaw Urbanist contributor
Though based on a 19th century publication, The Little House: An Architectural Seduction is, in fact, an 18th century French text, Le Petite Maison by Jean-François de Bastide. As Anthony Vidler points out in the preface, it is a peculiar French attempt to synthesize two disparate literary genres, which was quite common at the time (and still frequently occurs today to varying degrees, think of recent attempts combining juvenile romance with erotic horror in fiction titles such as Stephanie Meyer's Twilight series, John Ajvide Lindqvist's Let the Right One In, or Isaac Marion's Warm Bodies). In the case of The Little House, it is the genres of the erotic romance and architectural treatise, which are synthesized by Bastide. The architectural treatise portion is beautifully composed of meticulous drawings of plans, elevations, and interior design details of the Marquis de Tremicour's petite maison, which is visited on a dare by the virtuous Mélite. Much of the text is given over to descriptions of Tremicour's collected objects displayed in the house. The design of the little house itself is strongly reminiscent of 16th century Palladian villas, which were also frequently used as display settings for wealthy collections of art, tapestries, inventive domestic wonders and what not rather than actual homes (the nearest American equivalent would be Thomas Jefferson's Monticello though Jefferson's home was also a fully-functional farmstead). The romance portion of the story details Tremicour's attempts to use his petite maison and its collection of expensive objects to seduce Mélite.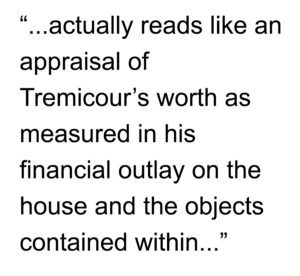 Despite Vidler's heavily-jargon-weighed efforts to convince readers to assume a French Libertine perspective (an "alien culture", according Vidler) in reading the text, The Little House actually reads like an appraisal of Tremicour's worth as measured in his financial outlay on the house and the objects contained within; in this case, worth is a measure of taste that can be purchased. Vidler argues taste in the 18th century French sense is actually an aspect of touch (both literally and metaphorically, how we are physical and emotionally 'touched' by a person or thing). Vidler's argument is not entirely convincing and it's easy to wonder how the reader might react differently to the text in the absence of Vidler's prefatory comments. Mélite's conflicted feelings about Tremicour during her visit emerge, on one hand, from her distaste of the man and his reputation and, on the other, her appreciation of the liberating nature of his wealth in enabling him to obtain the best of things. This serves as an interesting contrast to Mélite, who is explicitly stated to have earned her taste through learning and experience (her age and wealth status are not mentioned though it's safe to assume she is not a child and comes from a well-to-do French family). This seems to make Mélite's dogged resistance to Tremicour's (sometime clumsy) attempts at sexual seduction into a nature-nurture didactic whereby nature (one who is born with taste, i.e. Mélite) overcomes nurture (one who has purchased taste, i.e. Tremicour). Tremicour does have something of a nouveau riche quality about him, despite his title. However, this possible reading of the text is undercut by a revision to the ending of The Little House. According to el-Khoury's notes, Mélite succeeded in her efforts to resist Tremicour's attempted seduction in his petite maison and she retired to the country to recover from the ordeal in Bastide's original ending. el-Khoury is unclear if Bastide himself changed the ending (i.e. original ending was in draft form) or if the translator has changed the ending using a 20th century perspective. Thus, The Little House ends with a threat, Mélite's last words being "Tremicour, leave me! I do not want…", and then brief acknowledgement of Tremicour's success in seducing the virtuous girl. This revision is disturbing because it changes the tale from an architectural seduction into a libertine rape. The Little House thereby reasserts the purview of the masculine (of Tremicour, perhaps of the male contributors to this modern translation) over the feminine (of Mélite) in architecture and Mélite becomes, metaphorically-speaking, only another object to be collected. It is possible this review is skewed with a distinctive 21st century perspective about women but no matter how much some of us may wish to be a French Libertine, we are not.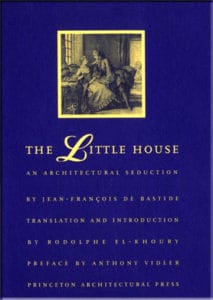 The Little House: An Architectural Seduction
By Jean-François de Bastide (Translated by Rodolphe el-Khoury)
Preface by Anthony Vidler
Originally published as Le Petite Maison, 1879
Princeton Architectural Press, 1996
116 pages
Available for purchase from Amazon here.
From the Vault is a new series from the Outlaw Urbanist in which we review architectural and urban design texts, with an emphasis on the obscure and forgotten, found in the second-hand bookstore.