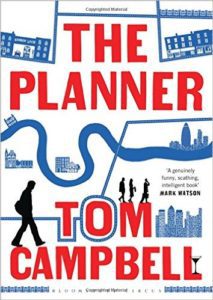 BOOK REVIEW | The Planner by Tom Campbell
by Dr. Mark David Major, AICP, CNU-A, The Outlaw Urbanist contributor
The Planner (2014) by Tom Campbell tells the story of two months in the life of James Crawley, a young town planner working in the public sector for Southwark Council (south London borough across the River Thames from the City of London), who is having a 'mid-life' crisis in his early thirties. James has learned to play it safe. He knows a great deal about regulating city life but very little about actually experiencing life in one of the greatest cities in the world. In James' opinion, he lacks a 'worldview'. This is when he meets Felix, a brand planner in the advertising industry. Felix takes on James as a project to help him develop this worldview to better guide him. Felix does so by introducing James to the darker social mores of London. As one might expect, this includes recreational drug use, observations in class, professional and sexual politics, and a pseudo-erotic rite-de-passage.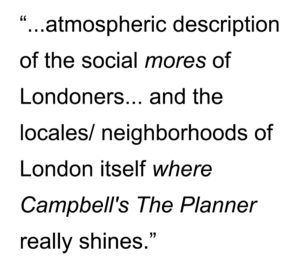 The personal revelations in The Planner are hardly surprising (people are not always as they appear) or earth-shattering (people are stupid and need to be told what to do, i.e. what one might expect from someone choosing town planning as a profession). This is especially true since it's readily apparent this is the worldview James already holds at the start of the story, so acute self-awareness is the only lesson he learns on this journey.  However, it is the atmospheric description of the social mores of Londoners (including lingering remnants of the class system) and the locales/neighborhoods of London itself where Campbell's The Planner really shines. This includes all-too-familiar witty commentaries on the dreariness and inherently self-defeating proposition of the town planning profession itself in the absence of naked tyranny. Some of it is very cynical (e.g. everything is branding). You may not be entirely satisfied where The Planner ends up but you'll enjoy the journey getting there, which so often describes what the city is really all about (3 1/2 stars out of 5).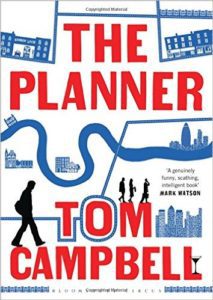 The Planner by Tom Campbell
Paperback
English, 304 pages
Bloomsbury Publishing PLC
July 17, 2014
Purchase The Planner by Tom Campbell from Amazon here.