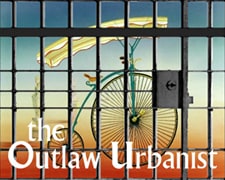 Why The Prisoner imagery? Because the idea for The Outlaw Urbanist came to us while watching the entire 17-episode run of the 1960s British television series starring and co-created by Patrick McGoohan. His character, Number Six, maddeningly finds himself trapped in The Village where even escape is an illusion. The imagery of The Prisoner is entirely appropriate to the modern condition for millions of our citizens, who find themselves trapped in a suburban sprawl prison — not of their own making — caught in a false illusion of the idyllic where escape is the only answer to the questions we have consistently failed to ask.
We welcome contributions and comments from fellow crusaders for the future of our cities!
Follow us on Twitter @OutlawUrbanist.
Email us at [email protected].
Disclaimer: The views expressed on The Outlaw Urbanist website, Twitter feed, or any other mode of social media are solely those of Dr. Mark David Major, AICP, CNU-A in his private capacity and do not in any way necessarily represent the views of the Department of Architecture and Urban Planning, College of Engineering, Qatar University and/or any other business or agency.