There are few cities in the world more perplexing than Los Angeles. The reasons are many. The Outlaw Urbanist will take a closer look at some of the reasons in a multi-part, photo essay series. Today, we look at oddballs and curiosities in Los Angeles. If you dare to walk in Los Angeles (let's face it: if you dare, you will have to walk a lot as the price paid), you never know what you might find in the City of Angels.
Los Angeles has been in the midst of a drought for nearly five years now. The evidence of 'brown lawns' is everywhere as well as a few, industrious solutions such as in front of this apartment building where AstroTurf serves as a grass substitute.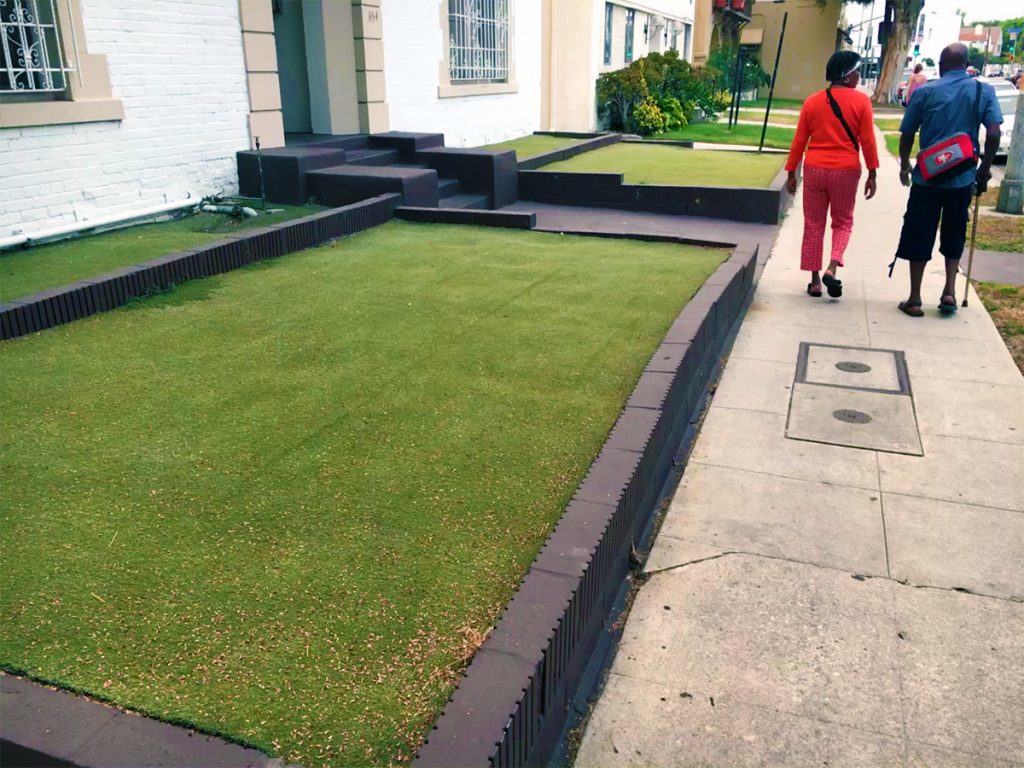 By all appearances, this 'rock garden' in front of a Wells Fargo building on Wilshire Boulevard is not in response to the long-term California drought but represents a purposeful landscape design choice. To say it is ugly is an understatement. You can also physically feel the temperature increase in proximity to this rock garden (which is much bigger than shown here). It should be filed under "What Were You Thinking?"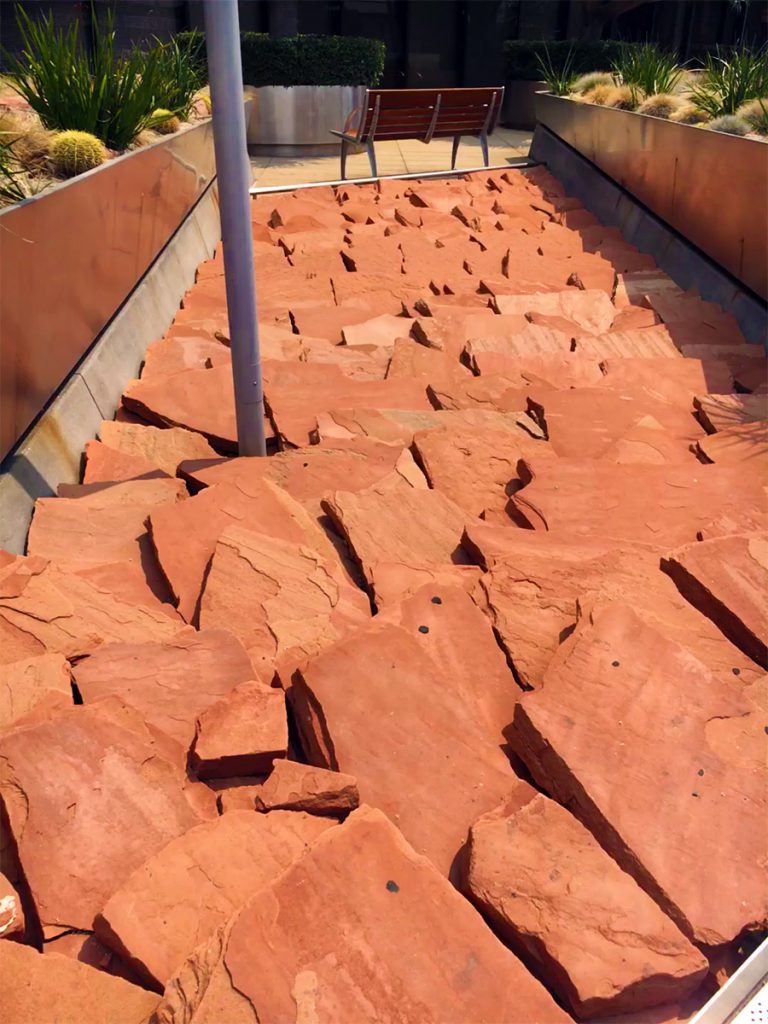 For the most part, the Los Angeles Metro is impressive and growing. This seems to include putting in the hard work of stations in the right locations as opposed to only conveniently available ones. However, there were a few, odd things about the L.A. Metro. The stations I used did not have above-ground buildings but rather large stairways/escalators opening up to street level with associated signage. This makes the station entrances difficult to see from a distance, for example compared to the distinctive, red tile buildings of the traditional London Underground stations or the most flamboyant designs of its newer stations. The lighting in these underground stations is incredibly subdued. The purpose of the 'romantic lighting' is unclear since it tends to render a somewhat unsafe feeling to these underground spaces  (even though the stations seemed perfectly safe). I noticed the same subdued lighting at some downtown underground stations on the St. Louis MetroLink. The brighter lighting in stations on the London Underground is preferable in my opinion.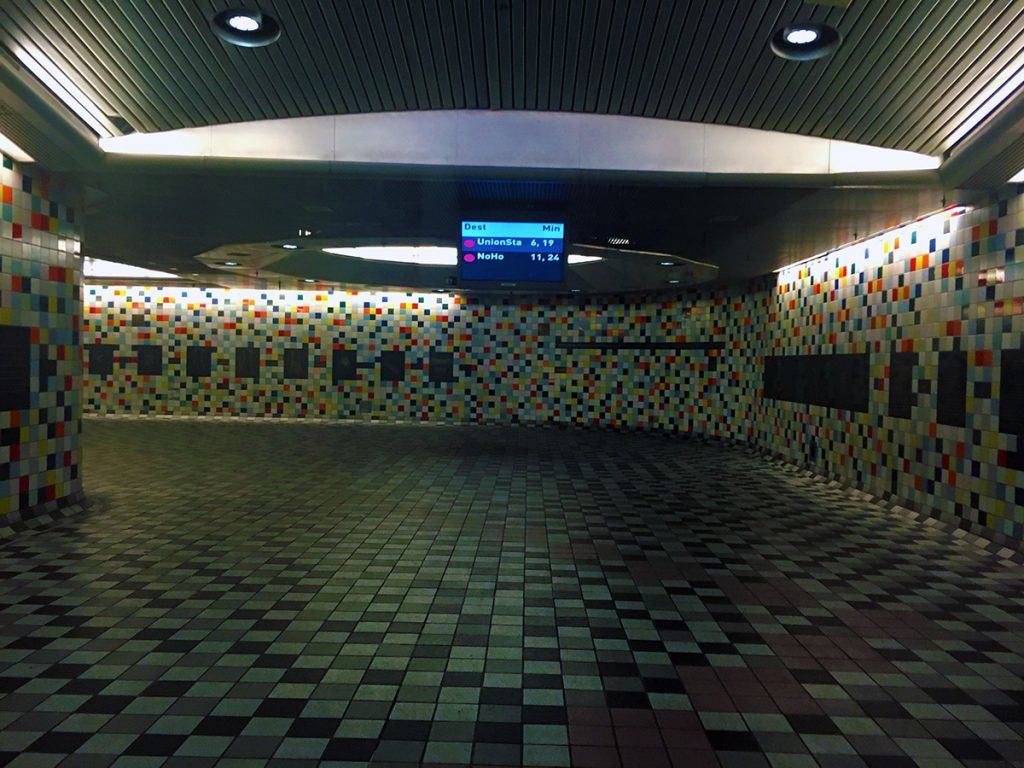 The other noticeable thing about these L.A. Metro stations is the manifest lack of advertising on the walls. There are gobs and gobs of wall space, which are left completely unused. It is unclear why the L.A. Metro would forego the additional revenue stream of advertising in their stations to help offset the operating costs, especially if they control where and how that advertising is located. It is a bizarre choice, especially in a city where the film industry thrives (e.g. movie posters). London Underground generates significant revenue from advertising in their stations, on platforms and along escalators. Why leave all of that money on the table in L.A.? It doesn't make any sense to me.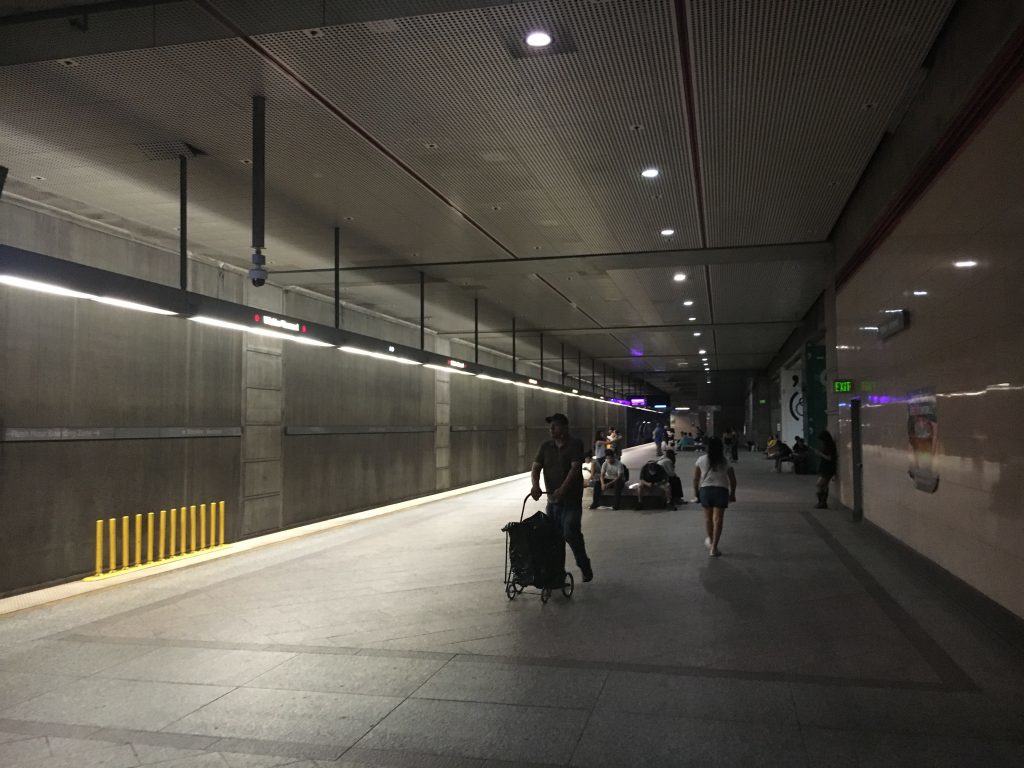 Nothing destroys the street frontage quicker than a continuous row of garage doors such as this recently constructed apartment/condominium building in Mid Wilshire. Ahem.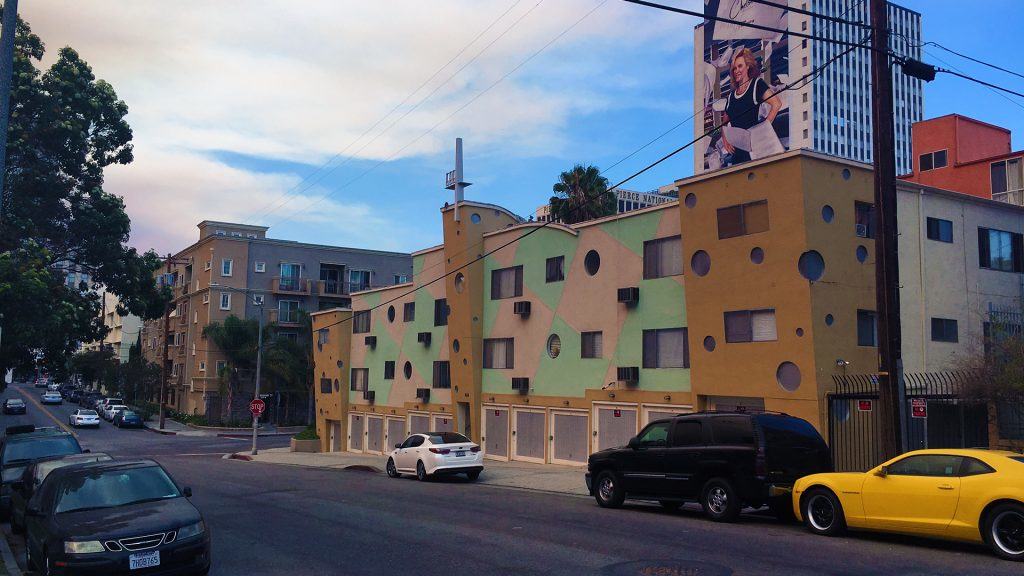 Or the continuous blank wall of a massive parking garage such as this one behind the Petersen Automotive Museum along South Fairfax Avenue. The pitiful – almost apologetic – street trees do very little to mediate for this massive blank wall. Walking around L.A., I reached the point where I swore "if I see one more insensitively designed parking garage, I'm going to scream." I was screaming a lot after that ill-advised vow.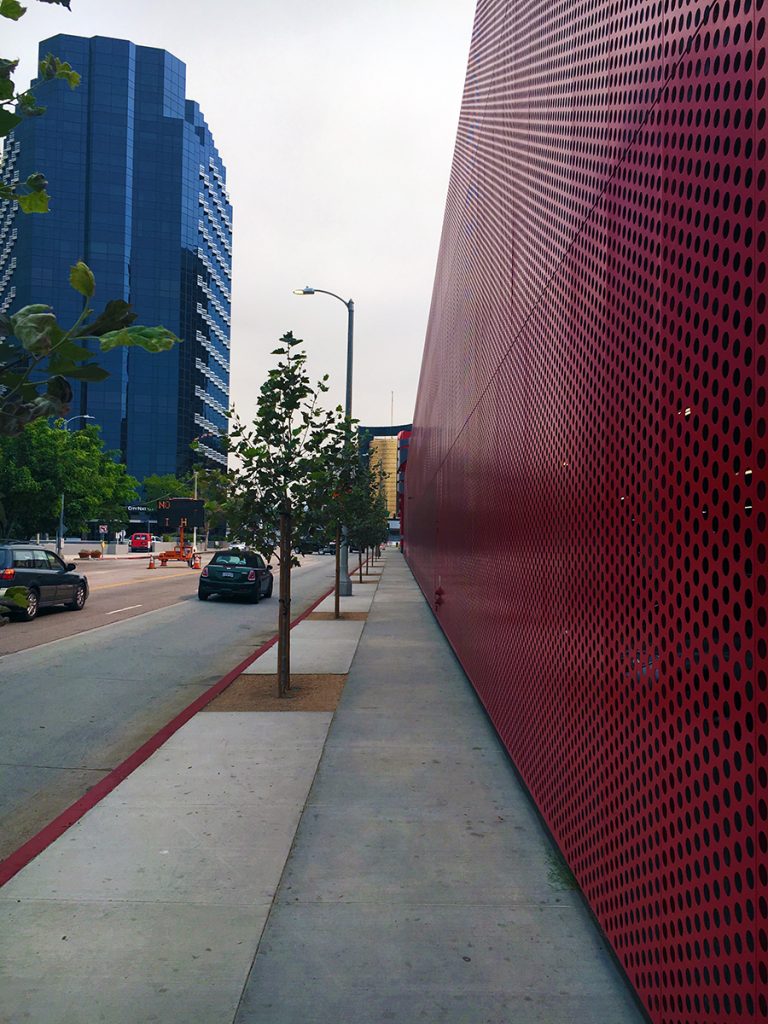 There are some interesting (current and past) rehabilitation projects in Los Angeles. For example, this conversion of what appears to be an extremely old motor inn (or perhaps hotel bungalows) into an apartment/condominium complex one block south of Hollywood Boulevard in Hollywood.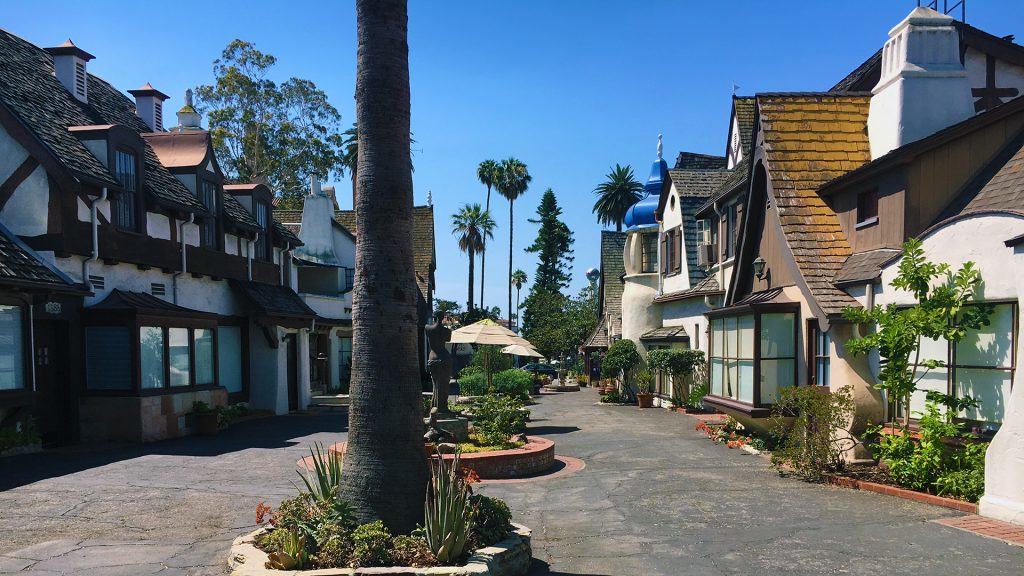 This adaptive re-use serves as quite a contrast to the standard, courtyard apartment building typology found in many neighborhoods of Los Angeles such as this one in La Brea.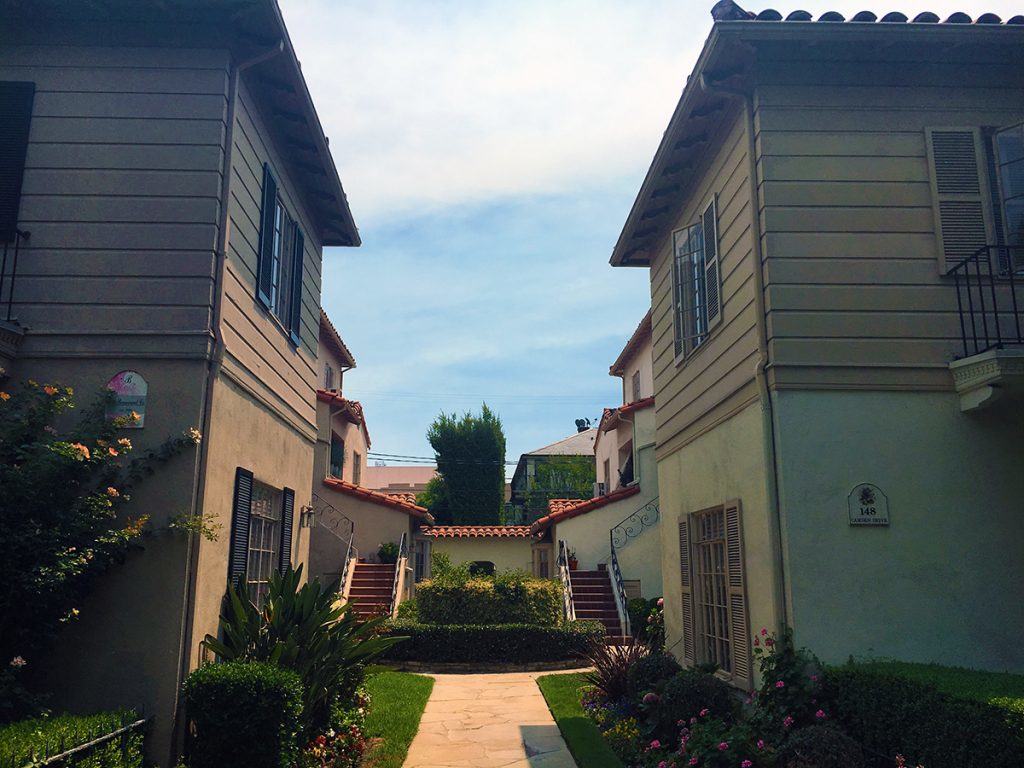 The coolest alley in Beverly Hills (yes, they have alleys in Beverly Hills, quite a lot of them) is located between Dayton Place and Rodeo Drive (at the far end of this photograph). This alley is called Fred Hayman Place. Fred Hayman was known as the 'Godfather of Rodeo Drive.' To the right, is The Grill on the Alley restaurant.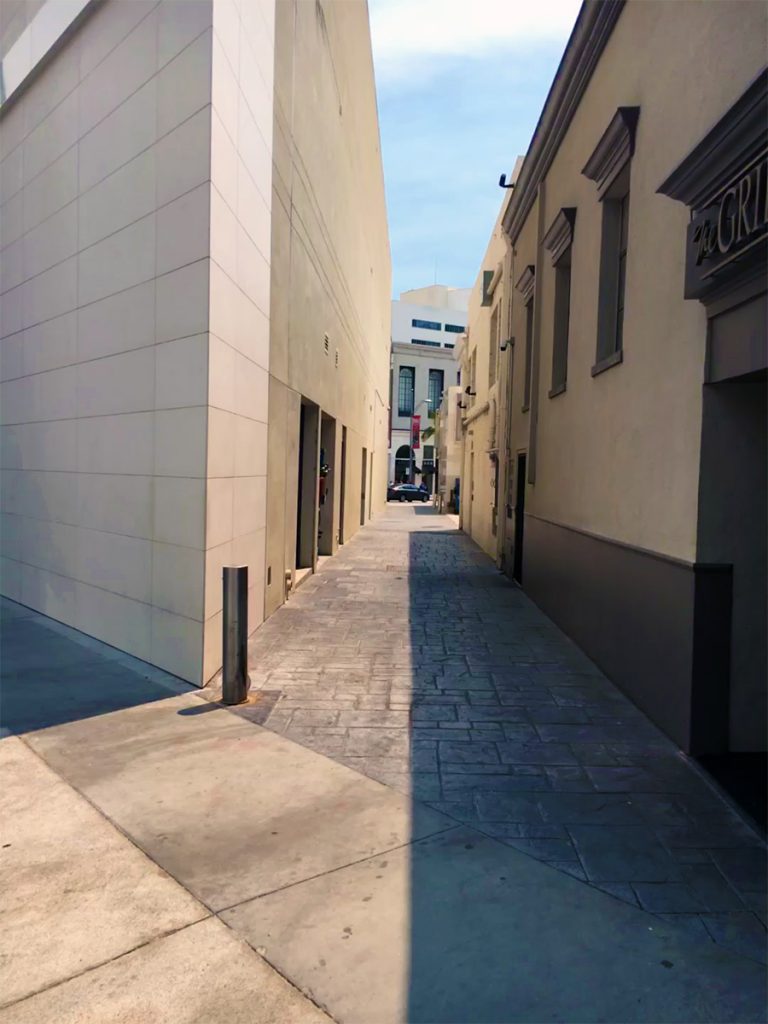 One of the most charming buildings along Wilshire Boulevard is Bernie's Coffee Shop (formerly Johnie's Coffee Shop) at the northwest corner of South Fairfax Avenue. It is more interesting than the Peterson Automotive Museum sitting on the opposite corner. Wikipedia even attributes a style to this type of building called Googie architecture, described as a form of modern architecture, which is a subcategory of futurist architecture influenced by car culture, jets, the Space Age, and the Atomic Age (Source: Wikipedia). Personally, I've never heard of this architectural style. It only looks like an old Denny's Restaurant. In any case, it is listed as a Los Angeles Historic-Cultural Monument. The building has appeared in several movies including Volcano, The Big Lebowski, Reservoir Dogs, American History X and Gone in 60 Seconds. You might be able to tell from this photo the owners of Bernie's Coffee Shop were 'feeling the bern' for Democrat Bernie Sanders at the time.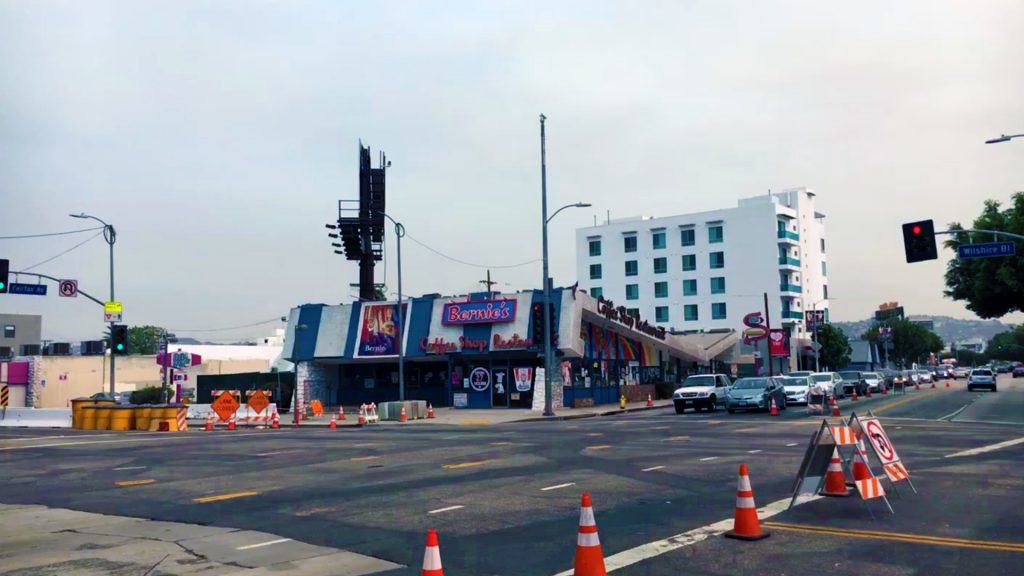 We conclude today's essay with a great find, a discovery made only possible by doing the unthinkable: walking a lot. The largest section of the Berlin Wall outside of Germany is located in Los Angeles in front of the Sprüth Magers Art Gallery on Wilshire Boulevard. You would think its proximity across the street from the heavily-visited Los Angeles County Museum of Art would mean this section of the Berlin Wall was easily-found and visited a lot. However, it was deserted most of the day. Most everyone ignored the history located a short walk just across the street from them.