God bless, historic downtown Springfield, Illinois… they are trying, they really are. Unfortunately, for every smart decision to promote vibrant urbanism, you can find another decision (or indecision) holding things back. The most important and destructive is the continual adherence to a one-way traffic system that has only one purpose: moving vehicles as quickly as possible through downtown. It is especially mind-boggling considering the large numbers of people (including school groups) visiting the Abraham Lincoln Presidential Library and Museum. Historic downtown Springfield is vibrant urbanism waiting to happen, trapped in its cage so automobiles can pass through quickly while only paying the minimal, necessary attention to pedestrians.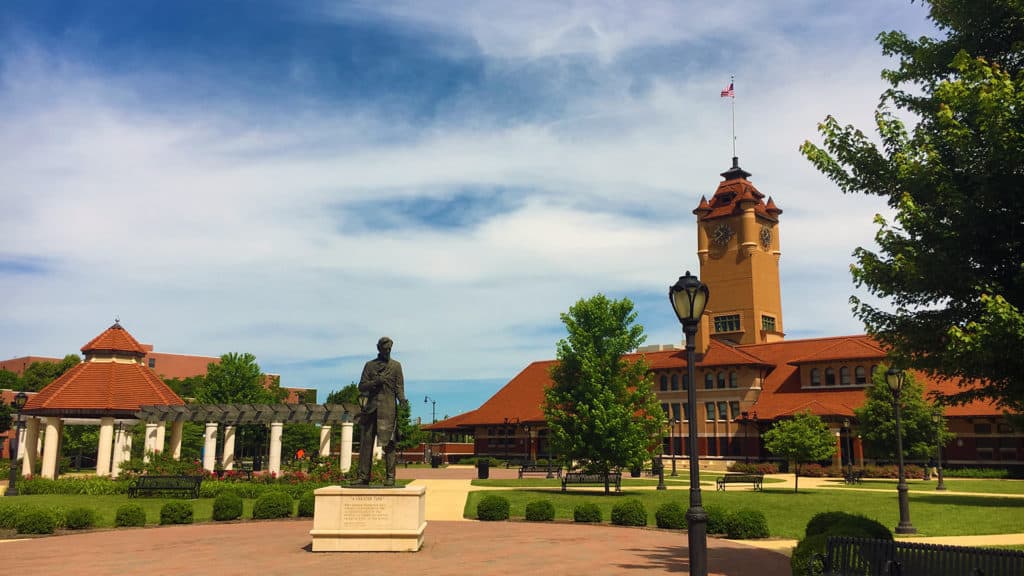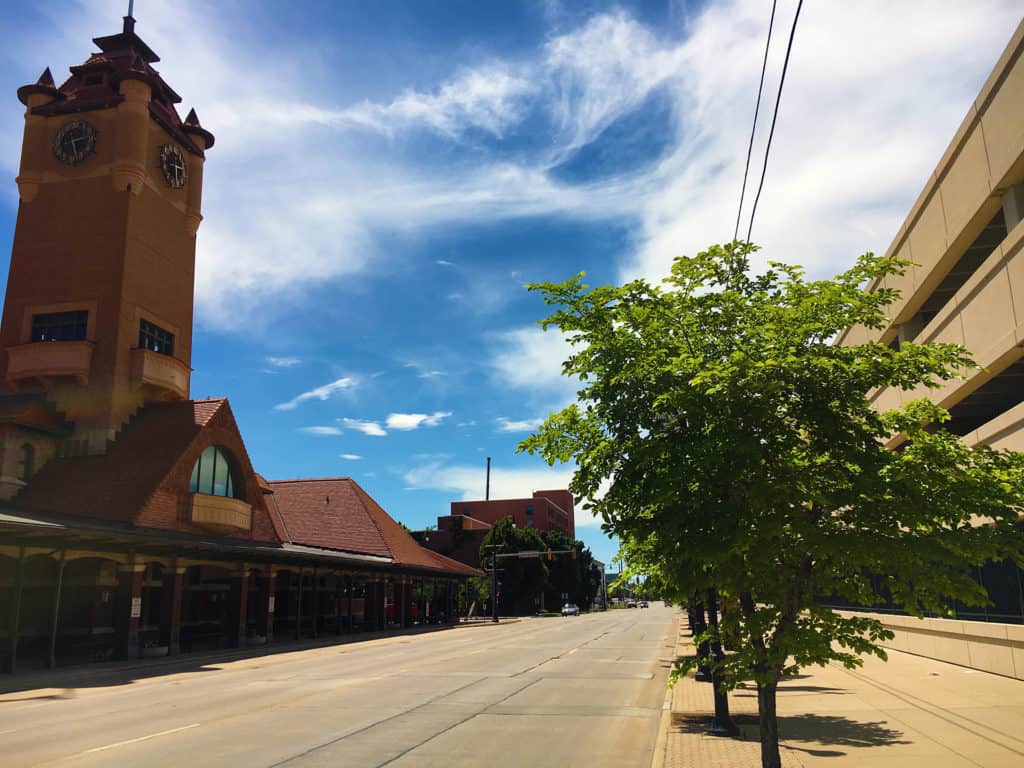 Another questionable design choice: locating a 'dead' facade parking garage across the street from beautiful, historic Union Station (now an accessory structure to the Lincoln Museum), thus creating an urban void absent of any active frontages. The parking garage was obviously built for the convenience of people visiting the Abraham Lincoln Presidential Library and Museum located one block away but does nothing for the street life along this one-way, 'rat run' segment of East Madison Street. The street trees seem like an apologetic, after-the-fact attempt to hide this failure of urban design and planning from citizens and visitors alike.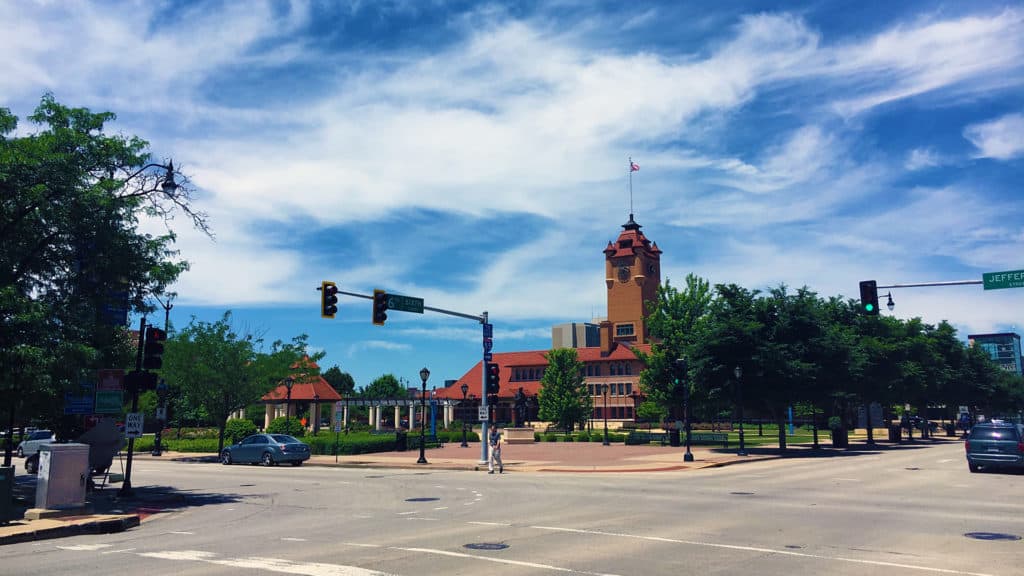 In the above photograph, you can see how much street width is dedicated to moving cars through the one-way street system in downtown Springfield and the amount of pavement pedestrians have to overcome to cross a street even though there is plenty of room for landscaped medians, enhanced pedestrian crosswalks, and on-street parking with a 20-25 mph speed limit to efficiently move (instead of stop-and-start) the traffic… perhaps, even the elimination of some stop lights using the design principles of shared space.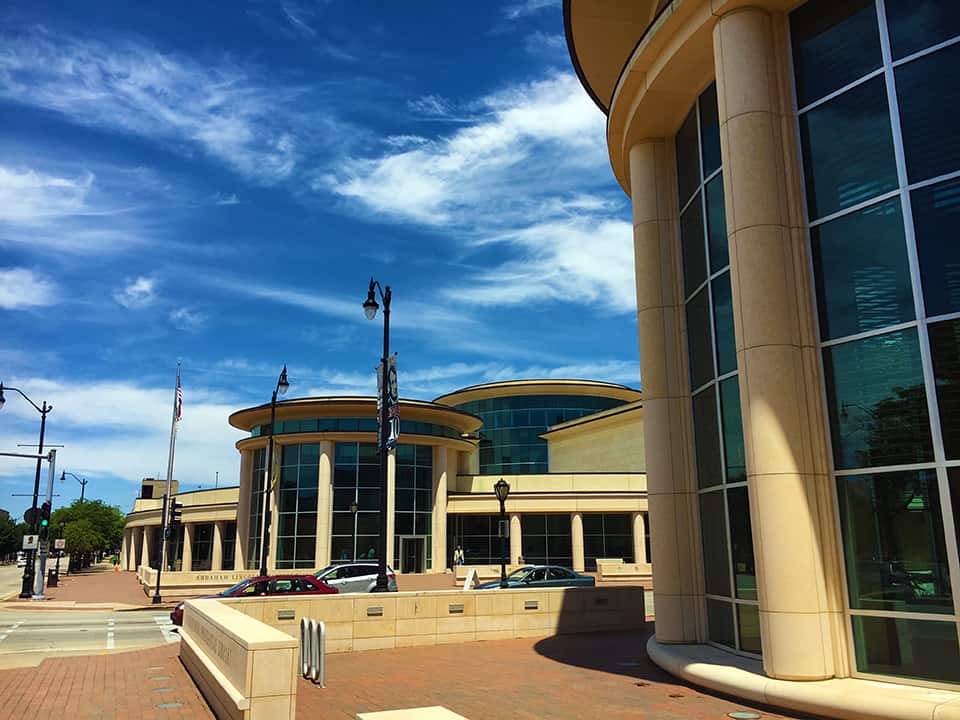 The HOK design of the Abraham Lincoln Presidential Library and Museum is O.K. (not great, not awful, hardly objectionable) though the 2nd floor structural crossover of East Jefferson Street wouldn't be necessary at all with traffic calming, generally in historic downtown Springfield and, specifically, on this segment of East Jefferson Street so people could pass freely from one ground level entrance to the other using the street without having to wait for the crosswalk lights to change.