Space Syntax for Dummies | Part 1
OVERVIEW
by Dr. Mark David Major, AICP, CNU-A, The Outlaw Urbanist contributor
A couple of months ago, Steve Mouzon (author of The Original Green and New Media for Designers + Builders) asked me to write an easy-to-understand introduction to space syntax on The Outlaw Urbanist. I don't think he actually used the words 'space syntax for dummies' but it's a good title (and a purposefully provocative one), so I'm running with it. There is a lot of material available in print and online about space syntax. However, for someone unfamiliar with the principles of space syntax, it can be a daunting prospect deciding where to begin when there are 30 years of material freely available from multiple sources. If you don't chose wisely, there's the very real risk of accidentally diving into the deep end before getting your feet wet in the shallow waters of the space syntax pool.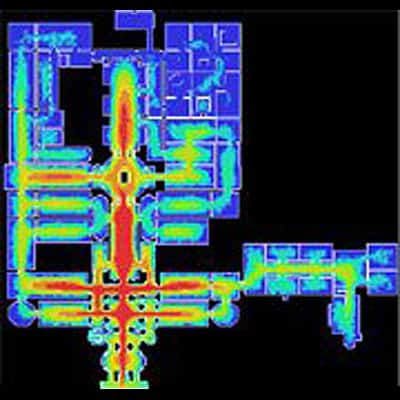 When I say 30 years, I mark the beginnings of widespread space syntax research from the publication date of The Social Logic of Space by Bill Hillier and Julienne Hanson. However, there were about 10 years of groundwork involving many people preceding its publication in 1984. For example, the 40th Anniversary celebrations of the MSc in Advanced Architectural Studies course at University College London (of which I am a graduate and former Course Director) occurred this year and one can easily mark the beginnings of space syntax using this date. In the past, Bill Hillier has referred to me as the founder of International Space Syntax Symposia (now approaching its 20th anniversary) and, while that is generally true, like all things space syntax it was really a collaborative genesis involving myself, Tim Stonor and several others. The fact is I haven't attended an International Space Syntax Symposium since the second one in Brasilia, Brazil (I was scheduled to present a paper at the third symposium in Atlanta in 2001 but was unable to attend though my paper on Savannah was still included in the proceedings).
What follows – I hope – is a simple, three-part introduction for those totally unfamiliar or only vaguely familiar with space syntax. For those familiar with space syntax (including its practitioners), this introduction will most likely be boring (perhaps in the extreme). Along the way, I will direct readers to other useful resources and additional reading if they want to learn more.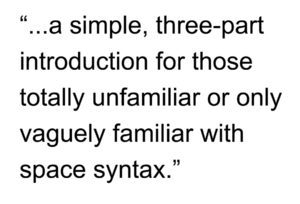 Part 1 draws upon home page of the Space Syntax Network, which provides a simple and direct 10,000-foot overview of space syntax (3,048-meters for those on the metric system) without getting too much into the details. It also includes a short, informative introduction video (embedded below) featuring Professor Alan Penn. Part 2 (Basics) and Part 3 (Results) draw upon distilled excerpts from the space syntax overview chapter of my forthcoming book, Relentless Magnificence: The American Urban Grid. As such, this means Space Syntax for Dummies is primarily intended for an American audience though I hope readers in other parts of the world will still find it useful.
Because space syntax is such a collaborative research program (remarkably so, in my opinion), Space Syntax for Dummies synthesizes the ideas and words of others over the last three decades as well as using my own words for introducing space syntax to a new audience.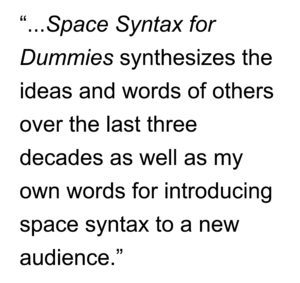 It would be almost impossible to compile an exhaustive list of people contributing to space syntax over this time period – and this introduction, in particular – but certainly the most important to cite are Bill Hillier, Julienne Hanson, Alan Penn, Tim Stonor, John Peponis, Nick "Sheep" Dalton, and Alasdair Turner.
Excerpt from the Space Syntax Network:
Space syntax is a science-based, human-focused approach that investigates relationships between spatial layout and a range of social, economic and environmental phenomena. These phenomena include patterns of movement, awareness and interaction; density, land use and land value; urban growth and societal differentiation; safety and crime distribution.
Space syntax was pioneered in the 1970s by Professor Bill Hillier, Prof Julienne Hanson and colleagues at The Bartlett, University College London. Today, space syntax is used and developed in hundreds of universities and educational institutions as well as professional practices worldwide. Built on quantitative analysis and geospatial computer technology, space syntax provides a set of theories and methods for the analysis of spatial configurations of all kinds and at all scales.
Research using the space syntax approach has shown how:
– movement patterns are powerfully shaped by spatial layout
– patterns of security and insecurity are affected by spatial design
– this relation shapes the evolution of the centres and sub-centres that makes cities liveable
– spatial segregation and social disadvantage are related in cities
– buildings can create more interactive organisational cultures.
Watch the UCL introduction video featuring Professor Alan Penn below:
Read the full article here: Space Syntax Network.
Additional resources: Tim Stonor's blog, The Power of the Network, is a good resource for reading about the ideas and findings of space syntax expressed in layman's terms without getting blogged down in the nitty gritty details of the research behind the words.
Stay tuned for Space Syntax for Dummies, Part 2: Basics!