Blessings on the poorly connected street,
For they shall find a grid to call home.
Blessings on the street that suffers isolation,
For they shall find comfort in a family of streets.
Blessings on the meek street,
For they shall inherit the city's fortunes.
Blessings on streets that hunger and thirst for righteous design,
For they shall be filled with people.
Blessings on the safe streets,
For they shall provide mercy to pedestrians.
Blessings on the richly connected streets,
For they shall become a city.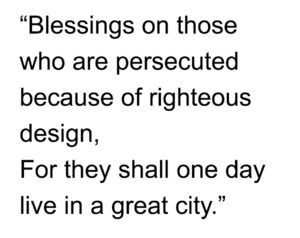 Blessings on the placemakers,
For they shall be called the children of the city.
Blessings on those who are persecuted because of righteous design,
For they shall one day live in a great city.
Blessings on you when people insult you, persecute you, and falsely say all kinds of evil against the city.
Rejoice and be glad because great are your rewards in the city, for in the same way they persecuted the prophets who were before you.
You are the salt of the Earth but if the salt loses its saltiness, how can it be made salty again? It is no longer good for anything, except to be thrown out and trampled over by the automobile.
You are the light of the city. A city built on a hill cannot be hidden. Neither do people light a lantern and hide it. Instead they put it on a post in the street, and it gives light to all pedestrians on that street. In the same way, let your city lights shine before others, that they may see your good streets and glorify the greatness of your city.
Moreso is a series of short ruminations or thoughts of the moment, usually of less than 500 words, from The Outlaw Urbanist.