A Failure of Modernism: 'Excavating' Pruitt-Igoe investigates the Pruitt-Igoe Public Housing Complex in St. Louis, Missouri USA. A large literature implicates several factors in Pruitt-Igoe's decline, which public authorities famously demolished in 1972. Often, this literature cites design and planning as contributory factors without specifying how or why in precise terms. Building on archival records and previous research, we analyze the 'spatial archaeology' of Pruitt-Igoe using space syntax.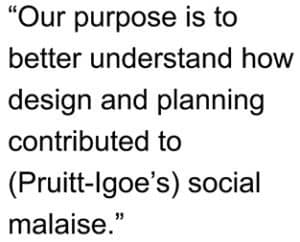 Our purpose is to better understand how design and planning contributed to its social malaise. It concludes: 1) provision of space (i.e. quantity) became a liability as declining occupancy generated a 'broken interface' between adults and children; and, 2) the pilotis of the residential towers mediated formal access and spatial distribution in a layout characterized by 'intelligible dysfunction,' which facilitated opportunity and escape for criminal activities. Both fed the perception and reality of social malaise at Pruitt-Igoe (2.5 hour course). Click here to purchase this course ($17.49).
Key concepts:  design, Modernism, planning, public policy, and social housing.
Includes a two-hour video presentation and PDFs of the course supplementary material and slide handout.
Please note there may be a delay for a couple of hours before you are able to access the course because we have to confirm receipt of payment for each order before completing the purchase.
About the Instructor
Dr. Mark David Major, AICP, CNU-A is an architect and planner with extensive experience in urban planning and design, business management and real estate development, and academia. He is a Professor of Urban Design at the Savannah College of Art and Design. Mark has been a visiting lecturer at the University of Florida, Georgia Tech, Architectural Association in London, the University of São Paulo in Brazil, and Politecnico di Milano in Italy.