A 'Hippocratic Oath' for architects, urban designers, town planners, developers, politicians, and anyone involved in the creation of our built environments.
The Vitruvian Oath
I swear by the Great Architect, my Creator or creators of the spirit and/or of the flesh.
I swear by our shared Humanity.
I swear by our most vibrant and livable Cities, Neighborhoods, and Buildings.
I swear by my Brothers and Sisters in the world, wherever they live, whenever they lived or will live, making them my witnesses of the past, the present, and the future.
I swear I will perform, according to my given talent, merited ability, and best judgment this solemn oath and duty to and for our built environments, from the most humble abode to the most magnificent metropolis.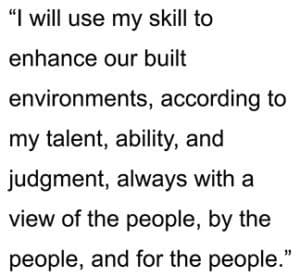 I will use my skill to enhance our built environments, according to my talent, my ability, and my judgment, always with a view of the people, by the people, and for the people.
I will keep pure and sacred life, body, and art in performing this duty.
In whatever lands I will enter, I will do so to help my fellow citizens, and I will abstain from intentional wrongdoing and harm to the form and function of our built environments, especially the abusing of my position for personal gain and vainglory.
And whatsoever I shall see or hear in the course of my profession in my intercourse with colleagues and clients, if it should not be publicized, I will never divulge, holding such things as sacred secrets, except for transparency in those things that advance human sciences and knowledge.
Now I shall carry out this oath and perform this duty and break it not, for myself and my fellow Man, may I gain forever a worthy reputation among humanity for my life, my body, and my art; but if I transgress against this oath and forswear myself, may the opposite destroy me.
Moreso is a new series of short ruminations or thoughts of the moment, usually of less than 500 words, from The Outlaw Urbanist.