"We'll be standin' on the corner of 12th in line
With our Kansas City baby and our bottle of Kansas City wine."
— Kansas City, Little Richard
Urban Patterns | Kansas City, Missouri-Kansas USA
by Dr. Mark David Major, AICP, CNU-A
Kansas City, Missouri is the largest city in the state and the sixth largest city in the American Midwest. According to the U.S. Census Bureau, the city had an estimated population of 481,420 in 2016, making it the 37th largest city by population in the United States. It is the anchor city of the Kansas City metropolitan area, which straddles the Kansas–Missouri border. Kansas City was founded in the 1830s as a Missouri River port at its confluence with the Kansas River. On June 1, 1850, the town of Kansas was incorporated; shortly after came the establishment of the Kansas Territory. Confusion between the two ensued and the name Kansas City was assigned to distinguish them soon thereafter. Kansas City, Kansas is the third-largest city in that state and the third-largest city (after Kansas City, Missouri and Overland Park, Kansas) of the Kansas City metropolitan area. The Kansas City metropolitan area is a 15-county metropolitan area that straddles the border between Missouri and Kansas. With a population of about 2,340,000, it ranks as the second largest metropolitan area in Missouri (after Greater St. Louis). Kansas City, Kansas is abbreviated as "KCK" to differentiate it from Kansas City, Missouri. As of the 2010 census, Kansas City, Kansas had a population of 145,786 residents. (Source: Wikipedia).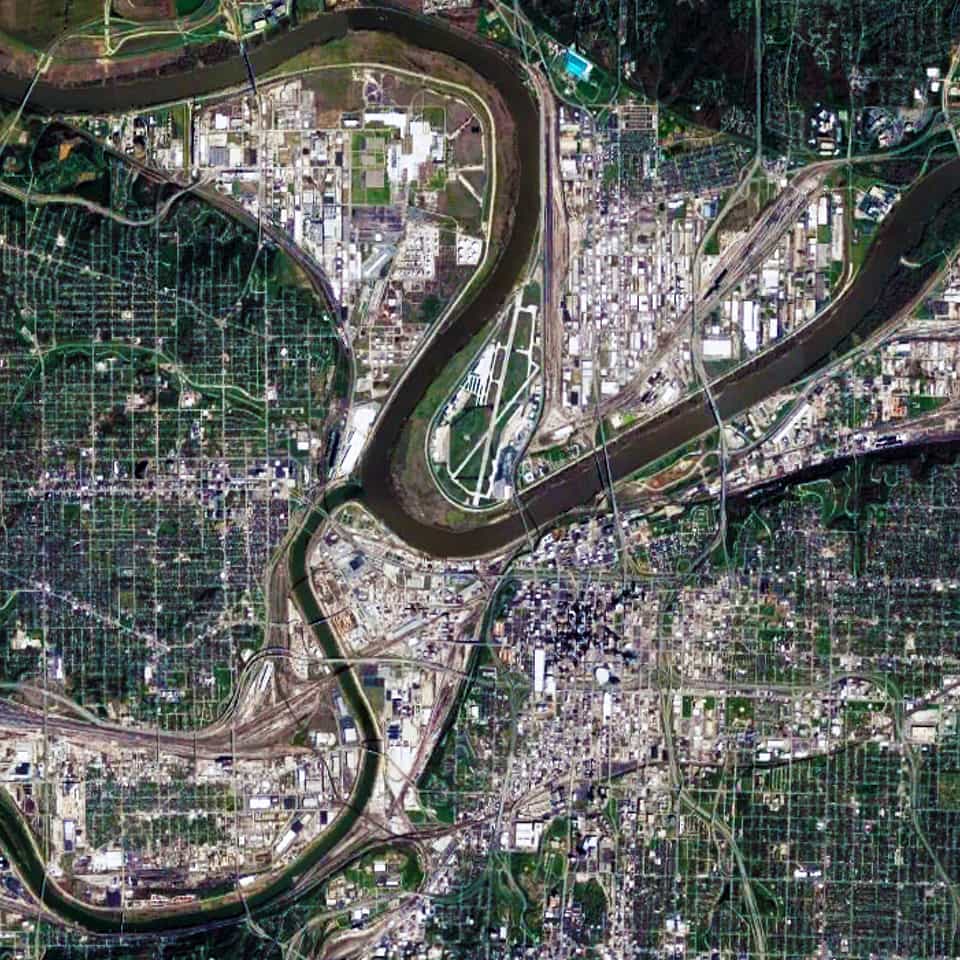 There are two distinctive characteristics to the urban pattern of Kansas City at different scales of the city. The first is the series of large building footprints and urban blocks composing a series of small-scale (in relative terms) offset grids adjacent to the Missouri and Kansas Rivers. This is most apparent in the close-up satellite view from 15 km of Kansas City (see above). This is a direct result of its historical origins in water transportation, which remains important to this day for the city; namely, the laying out of street networks to ensure a rectangular shape to the plots on the most valuable land immediately adjacent to the rivers.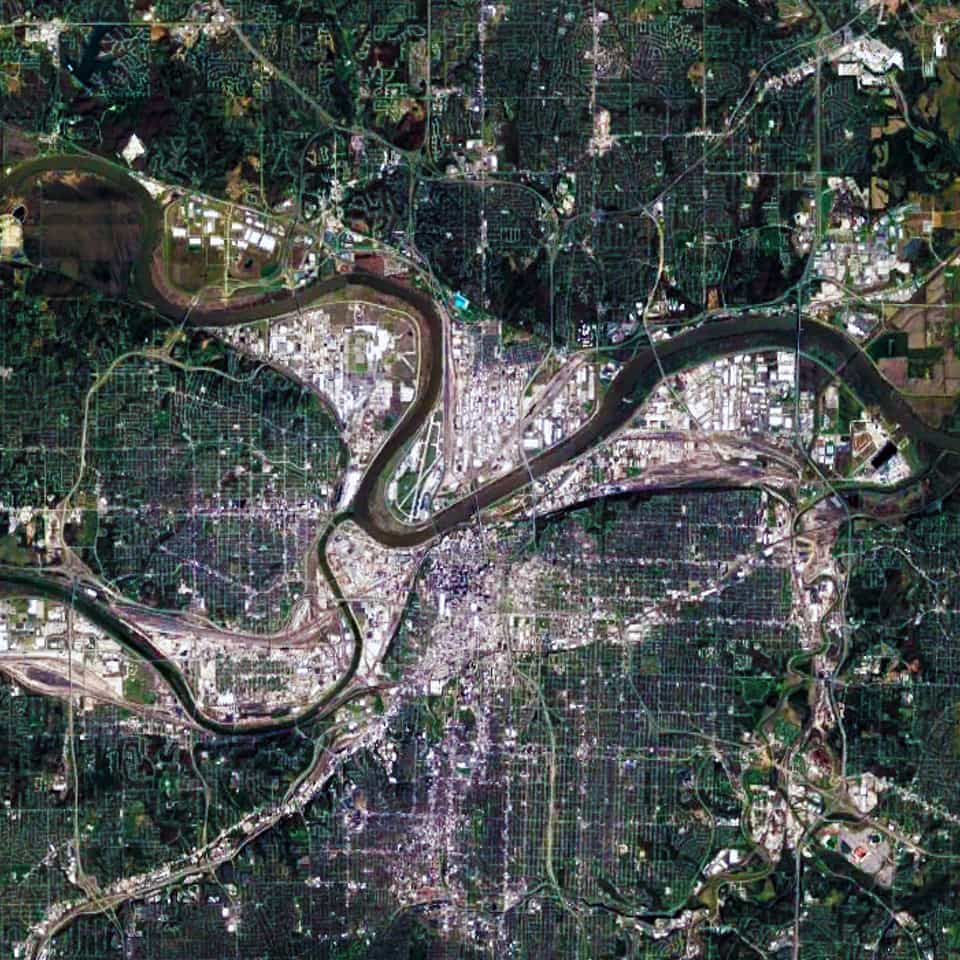 When examining the Kansas City urban pattern at the large-scale (see satellite view from 30 km above), the second distinctive characteristic becomes much more apparent; namely, a strong north-south and east-west structure in the street network of Kansas City. Initially, some people might think this occurred due to the stereotypical view about the 'flatness' of the American prairie. However, the topography in and around Kansas City is composed of gentle, rolling hills and river bluffs. Instead, this is evidence of the emergent pattern of the Jeffersonian grid in the 1785 Land Ordinance.
Urban Patterns is a series of posts from The Outlaw Urbanist presenting interesting examples of terrestrial patterns shaped by human intervention in the urban landscape over time.