A study published this month in the American Journal of Preventive Medicine found that the longer people drive to work, the more likely they are to have poor cardiovascular health.
"This is the first study to show that people who commute long distances to work were less fit, weighed more, were less physically active and had higher blood pressure," said Christine M. Hoehner, a public health professor at Washington University School of Medicine in St. Louis and the study's lead author. "All those are strong predictors of heart disease, diabetes, and some cancers."
The study monitored the health of 4,297 adults from 12 counties in Texas, a metropolitan region where 90 percent of people commute to work by car, Hoehner said.
The New York area has the longest average commuting time — almost 35 minutes — of any metropolitan area, according to the Census Bureau in its analysis of the 2009 American Community Survey. But the other nine metro areas in the top 10 also averaged a half hour or more. And even the area with the shortest average commute, Great Falls, Mont., still clocked in at 14 minutes.
That's important because those who commuted by car 10 miles or more each way were more likely to have high blood pressure than people who drove shorter distances. And those who traveled 15 or more miles each way were more likely to have bigger waistlines and less likely to be physically active, according to Hoehner's study.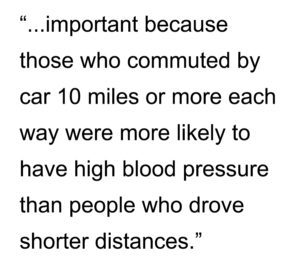 Tom Ricci, 53, drives 130 miles round trip each day from his home in Mahopac, N.Y., to his job at a music record company in Lyndhurst, N.J.
He gets up at 4:30 a.m. almost every day to hit the gym before work.
"I'd go crazy and lose my mind" without a workout routine, Ricci said. "You need a release from that grind."
Diet, exercise and sleep habits were not looked at in the study, Hoehner said. They also can also contribute to obesity and high blood pressure.
Christine Bruno of Garrison, N.Y., feels the difference. Her commute used to be 7 minutes. Now since she moved in with her fiance it take up to 90 minutes each way to make the 40-mile trek to New Rochelle, N.Y.
"By the time you finish your final meal of the day, there is no time to do much else," said Bruno, 40. "There is no time to exercise. And there is no time to go to the gym, and it's a huge issue, because I used to be a gym rat."
Danielle Mahoney, 36, lives in Patterson, N.Y., works in Suffern, N.Y., and commutes 126 miles round trip a day. Her company offers fitness classes to employees several times a week so they can exercise during the day. Without them, Mahoney said, she wouldn't have time for the gym, especially with twin toddlers at home.
The hours she spends in her car are "definitely draining," she said. "If it's a longer day or you didn't get enough sleep, you can doze when you are driving," she said. "Numerous times I catch myself."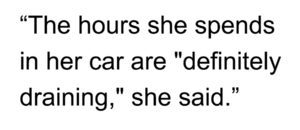 Dr. Franklin Zimmerman, a cardiologist and director of critical care at Phelps Memorial Hospital in Sleepy Hollow, N.Y., said what makes long commutes by car even worse is that many people are also sitting at work.
He tells patients to get 30 minutes of moderate to vigorous exercise each day. If people can't get to the gym, he suggests they park their cars farther from their offices and then walk. People can also sneak in exercise by getting off the elevator and taking the stairs.
"It's OK to split it up into increments," he said. "It's hard to find 30 minutes, but it's not hard to find five minutes, and all of that still counts."
Contributing: Tim Henderson, The (Westchester, N.Y.) Journal News
via Long commute time linked with poor health, new study shows – USATODAY.com.