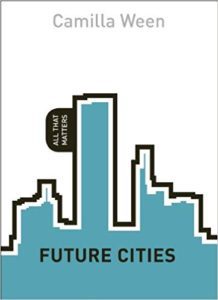 FROM THE VAULT | Future Cities by Camilla Ween
Review by Dr. Mark David Major, AICP, CNU-A, The Outlaw Urbanist contributor
It is difficult to know what to make of Future Cities by Camilla Ween unless you are aware it is part of the All That Matters series of books published by Hodder & Stoughton under the "Teach Yourself" banner… and not at all related to the German soap opera of the same name (Alles was zählt) with more than 2,700 episodes and counting since 2006. I mention this because Future Cities is kind of like a soap opera in that it covers a weighty, substantial topic (e.g., the future of cities in the 21st century) in a superficial manner… and thinks it is doing a public service in the process. However, many people (whether well-informed or not) are likely to come away bewildered and confused after reading Ween's book. As they say, it is a mile long and an inch deep… or 1.6 kilometers long and 2.54 cm deep for those on the metric system. It covers a wide range of topics – all nominally under some header of (insert descriptive adjective here) sustainability – without any serious attempt at critical appraisal of concepts and ideas discussed other than an subtle anti-status quo message (primarily directed at fossil fuels and capitalism) and a vague sense that we should all become vegetarian farmers by returning our cities to a pre-industrial state of agrarian existence. However, these leanings are extremely nuanced and subtle: most people will not even notice under than a noticeable lack of 'how-to' explained in the book. This means Future Cities does manage to accomplish something quite remarkable, which is an almost completely value-free overview about a topic of great value, e.g., cities. Quite frankly, I did not think that was possible. This means Future Cities is unlikely to offend anyone while actually doing very little to help them.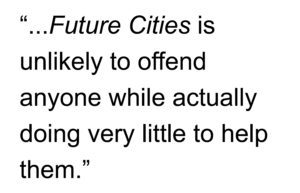 This perspective places Ween's book squarely within the Landscape Urbanism school with a distinctive Old Labour leftward lean to the material, which is not surprising since she worked for more than a decade for former London Mayor Ken Livingstone. For example, Ween's description of the London Transport bus system in the 1990s (i.e., before Ken Livingstone became Mayor of London and Ween worked for the Greater London Authority) is an outright mischaracterization as anyone who lived in London during the 1990s can attest. In this sense, Ween seems to be referring to customer satisfaction surveys (a 'take a poll to solve the problem' solution) and not public transport usage. Anyway, there is nothing wrong with Ween's leanings as long as you bring substantive ideas to the table but she does not seem interested in deep ideas; only fashionable 'Gizmo Green' solutions about the bright technologically-based, zero-carbon, fusion-fuelled, socially-just future of our cities based on ad infinitum budgets. Cities are more dynamic, complex, problematic, and deeper than Ween's book is willing to dive. However, that is the intention of Teach Yourself/All That Matter series: a Cliff's Notes (a series of student study guides for people who cannot be bothered to read the source material in more detail) version on any fashionable topic. When it comes to cities, you should bother. In the end, it is the superficial nature of the series premise itself, which tends to undercuts any value in Ween's Future Cities. It is like watching the movie without reading the book… and mistaking that you know everything about the book based on the movie. Future Cities might have some minimal value for second and third undergraduate architecture and planning students as a jumping-off point for more in-depth investigations and discussions about the urban issues raised by Ween but nothing more.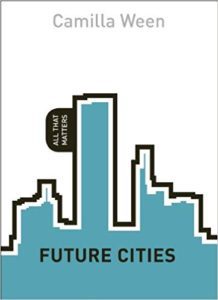 Future Cities by Camilla Ween
Series: All That Matters
English, Paperback, 160 pages
Publisher: Teach Yourself (2013)
ISBN-10: 1444196103
ISBN-13: 978-1444196108
You can purchase All That Matters: Future Cities by Camilla Ween on Amazon here.
From the Vault is a series from the Outlaw Urbanist in which we review art, architectural and urban design texts, with an emphasis on the obscure and forgotten, found in second-hand bookstores.