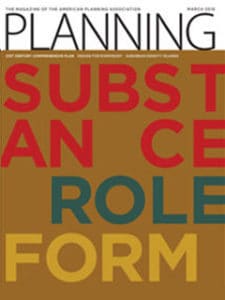 Planning Naked | March 2016
by Dr. Mark David Major, AICP, CNU-A, The Outlaw Urbanist contributor
"Partnering for Success", this month's From the Desk of the APA's Executive Director article by James M. Drinan (pp. 3), is (unintentionally) a perfect illustration of what has gone wrong in this country: it's not what you know but who you know that matters and accomplishment is measured in terms of knowing who to know in order to profit instead of knowing what to do in order to solve decades of problems in our towns and cities. In the grudge match of 'Insiders vs. Outsiders' in today's America, APA thinks firmly planting their flag in the Insiders camp is a virtue. It's not: it's a symptom.
"Coming Soon: Lake Erie Wind Power" by Daniel McGraw (pp. 10) in the News section is interesting but leaves some questions unanswered or unmentioned such as the impact on shipping through the Great Lakes/St. Lawrence Seaway. Are northern, industrial cities along the Great Lakes completely abandoning any hopes of recovering industry associated with shipping? If so, why? If the project is viable without a Federal DOE grant, then the grant is irrelevant (i.e. it is corporate welfare for a Norwegian company). It seems like there are larger strategic issues underlying this story than a nominal press release for LEEDCo and Fred.Olsen Renewables.
"Sagebrush Rebellion Redux" by Allen Best (pp. 12) brings up an interesting topic: Federal ownership of lands in the West. I don't know enough about the particular issues in the Western United States to comment with any authority but I do think there is a more general, legitimate question at the center of the controversy: do we have the right model for ownership, management, and regulation of vast areas of public land for the 21st century? I don't know the answer to that question but it seems important to better understand an answer and why. This seems further warranted by the Legal Lessons article, "Don't Mess with Due Process" by Ilima Loomis (pp. 13) since it is beyond ridiculous that it should take 7+ years and counting to decide about permitting and constructing a scientific telescope (surely the design is close to technologically obsolete by this point).
The articles composing this month's cover (Substance, Role, Form) about comprehensive plans (pp. 14-31) are an editorial disaster. It reads as if the Planning Magazine editors wedged together more than a dozen articles by different authors by synthesizing them together under an awkward thematic umbrella that, in the end, was credited to half-a-dozen principal authors. That's not to say there aren't good, interesting items in here (there are) but it's a chore to sort through the mess and the constant "take (insert 'community name/plan' here)" asides are irritating in the extreme. It's like someone composed a checklist, which can be re-constructed based on these paragraph 'take this example' asides. Let me try to help the readers: pp. 14-19 is 'buzzword' fluff that reads like a committee of marketing agencies wrote it (ignore it unless you find yourself in need of action verbs); pp. 20-24 (to the first 2 paragraphs) is outstanding because it demonstrates the re-emergence of design (e.g. form-based codes, etc.) as the real driver of new approaches to comprehensive plans and, in typical APA fashion, the awkward structure is designed to subvert the real story in order to re-assert (or, perhaps, soften the blow to) traditional planning approaches in the post-war period; the rest of the content (pp. 24-31) is mostly more planning fluff and buzzwords except for isolated excerpts here and there about PlanLafayette.
This month's Planning Practice article "Design for Everybody" by Steve Wright and Heidi Johnson-Wright (pp. 32-39) is an insidiously great article that promotes humanistic design principles (i.e. not for the automobile) while cloaking the argument in the language of the left (and, by implication, APA) about addressing urban issues for special interest groups and socially vulnerable populations (e.g. universal design and accessibility for everyone "using simple approaches and thinking holistic"). This article speaks volumes more in 4 pages than the 9 pages (excluding the 2-page title spreads of each) devoted to the cover story.
"Density is Land" by John H. Tibbets (pp. 40-43) is neither about land or density (not really) but yet another article about NIMBYism ("Not in My Backyard") run amok. The fact is we're going to be paying for the sins of the last 80 years for a very LONG time, especially in the Southeast.
"Planning for Cities of Awe" by Timothy Bentley ((p. 46-47) is proof-positive that phenomenology (for good or ill) is not dead.
The Planning Library reviews of five books this month are depressing.
This month's Viewpoint article, "The Displacement Factor" by Daniel Kay Hertz (pp. 52) does the unthinkable to the more-devout disciples of David Harvey and social justice by applying a common sense perspective to the issue of gentrification in cities. Finally, a voice of reason in the wilderness.
Planning Naked is a regulare feature of observations and comments about a recent issue of Planning: The Magazine of the American Planning Association.