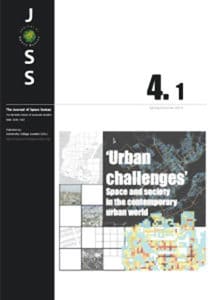 "The city's essential DNA: Formal design and spatial processes in the urban patterns" by Mark David Major is now available in Vol 4, No 1 (2013) of The Journal of Space Syntax. Read an excerpt below:
Our descriptions of cities are often based on their physical form. In urban theory, these descriptions are usually expressed in terms of a dichotomy whereby meaning emerges from contrasting cities as organic or regular, unplanned or planned, natural or artificial, generated or imposed, and so on (Gallion and Eisner, 1963; Alexander, 1965; Moholy-Nagy, 1968; Batty and Longley, 1984). Kostoff (1991) suggests this dichotomy is 'the most persistent, and crudest, analysis of urban form'. Hillier et al. (2012) even argue that 'we should abandon the long-standing distinction between geometric and organic cities' because it does not adequately address the deliberate use of geometry at different scales of the city (p.187). Notably, the first stresses process over time in terms of 'unplanned evolution' or 'instinctive growth', whereas the second stresses the conscious act of design in a 'centrally planned scheme' (Kostoff, 1991, p.43). This 'shorthand' provides a basic understanding of cities across different times, cultures, and geographical regions. The usefulness of descriptions such as 'organic' or 'regular' lies precisely in the fact they are theory-loaded terms. They seemingly convey a lot of information in an easy-to-grasp manner. We say 'seemingly' because these terms are so theory-loaded they can often lead to confusion, which can make their descriptive value 'more a hindrance than an aid' (Kostoff, 1991, p.43). For example, 'regular' seems to be an explicit description of both the physical form and design process that gave rise to that composition. However, the term 'organic' seems to only pertain to process. According to Batty and Longley (1994), organic cities 'grow naturally from a myriad of individual decisions at a much smaller scale than those which lead to planned growth. Planned cities or their parts are usually more monumental, more focused, and more regular' (p.8). The term 'deformed' is sometimes used to describe the physical form of organic cities, but more often than not, is tacitly understood to be a given about such cities. This explicit and implicit description of urban form and process forms the basis of their descriptive value, since most cities are easily classified as having common or different attributes when characterised as organic or regular.
Download a PDF of the full article here: The city's essential DNA: Formal design and spatial processes in the urban patterns | Major | The Journal of Space Syntax.
UPDATE: The Journal of Space Syntax has now included the images in the article available at the link above. However,  they are also below for your reference.




(Comment from Steve Mouzon) I've always found the classical-vernacular/refined-organic useful when considering urbanism. A couple quirks to consider: A highly talented planner can do a competent job with an organic plan, but a vernacular process will never produce a rigid grid. With that having been said, the best might do a bit better than competent, like Leon Krier at Poundbury, but Poundbury isn't as good as dozens of Cotswold towns built by the townspeople. Most planners are not nearly so good as Krier, so each pole of the spectrum is obviously really good at what they do. FWIW, I regard Krier as the personification of classical planning, and Christopher Alexander as the personification of the vernacular process. We need them both, although neither of them realize that. I had a good conversation with Krier about that one night in South Bend. I've heard about Space Syntax for years, but have no meaningful knowledge of it. Someone (you, I hope) should blog a description that's clear and descriptive to the rest of us.