AUTHOR'S NOTE: This is a guest editorial in support of Florida Hometown Democracy originally published in October 2010 on the online magazine, Metro Jacksonville.
EDITORIAL: VOTE YES ON AMENDMENT 4
by Mark David Major, AICP
Voting Yes for Amendment 4 this November 2nd is a vote for a better, smarter Florida. Our real estate and development industry is a dinosaur; equally dull in its collective wisdom and just as extinct. Over the last 25+ years, our real estate development industry has been driven by one arrogant and fatal assumption: this is what makes us the most money, therefore, this is what the people really want. It's akin to offering a man dying of thirst in the desert a shot of bourbon to forget his troubles ("oh, and here's a Golden Calf to help you pray for help"). The dying man wants… needs water. But the profit margins on bourbon and golden calves meet the quarterly profit projections of Wall Street. Now Amendment 4 comes before the voters this November 2nd to offer water in the desert. Predictably, the entrenched, moneyed interests in Tallahassee and town halls across the state have risen in opposition to Amendment 4. In the wilderness of the desert, they proclaim, "Don't drink the water! Water has a 100% mortality rate! Anybody who has ever tasted water has died!" But the voters know better. Amendment 4 proposes to make amendments to local comprehensive plans subject to voter approval.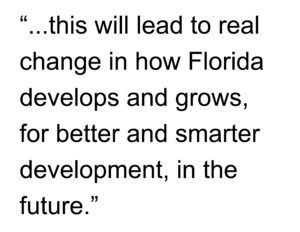 And this will lead to real change in how Florida develops and grows, for better and smarter development, in the future. Once the inevitable economic recovery appears, our real estate and development businesses will still make money (a lot of money, in fact). But the "this is the way we've always done it" business models they have relied for the last 25+ years will have to adapt when the voters approve Amendment 4 this November 2nd. Americans are optimists. We believe a vote can change our world. In 2006 and 2008, we voted to change direction after the Republican Party betrayed its core principles. Now, in 2010, we are once again preparing to vote for unprecedented change after the disappointment of the last 2 years. The media pundits and talking heads are pontificating about "the angry voter", as represented by the enthusiasm of the Tea Party movement. But people don't get angry and enthusiastically go out to vote unless they are optimists. The optimist votes because we still believe our vote matters and we can change things for the better. We stubbornly cling to our optimism despite being bombarded by the 'conventional wisdom' of cynics who prey on the fear we can never change a corrupt system dominated by moneyed interests, lobbyists and entitled self-serving incumbents (of both parties). I urge you to exercise your optimism by voting Yes on Amendment 4 this November 2nd for a better and smarter Florida.
Mark Major, AICP was the Chair of the First Coast Section, Florida Chapter of the American Planning Association from 2005-2008.