Obama, build a lasting urban legacy by Richard Florida – NY Daily News.
Pigs at the Trough| Florida & Obama Build a Legacy | NY Daily News
Editorial by Dr. Mark David Major, AICP, CNU-A, The Outlaw Urbanist contributor
Richard Florida's advocacy for President Obama to establish a U.S. Federal Department of Cities is an interesting idea. However, if implemented as outlined by Florida, it is also an inherently flawed one that would inevitably spell danger for our cities. The fatal flaw lies in a tepidness to truly reinvent our development processes. Instead of offering a radical vision to remake city building, Florida's proposal actually represents more of the same. It would create a new Federal bureaucracy in "dysfunctional Washington" dedicated to the proposition that all special interests are created equal; more 'Great Society' than Great Cities. The fact is the majority of our citizens should have long ago grown tired of thinking that the default solution to every problem is a Cabinet-level Federal Department. Coming to CSPAN!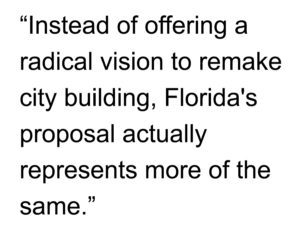 The circus of Senate confirmation hearings for the Secretary of Cities, brought to you by National Ready Mixed Concrete Association and Community Organizations International, just as soon as the Senator from Montana releases his hold on the nomination! Stay tuned! More pigs feeding at the Federal trough would inevitably populate Florida's Department of Cities. That is fine for the pigs but what about the rest of us?
Upon his election in 2006, Florida Governor Rick Scott had a similar opportunity to implement a new vision for building and growth in the State of Florida. His initial thinking was right: streamline the mess of State agencies to break down the 'silos' that had emerged between bureaucrats of different departments, reducing the size of State government so it works for its citizens rather than the other way around. Unfortunately, Scott's implementation of this idea did not really change anything. Scott was unwilling to go far enough (or just paying lip service) to remaking State government. Instead of merging and streamlining the State Departments of Community Affairs, Environmental Protection, and Transportation into one organization dedicated to placing Smart Growth principles at the forefront of the agenda (and, by implication, subordinating road building and moderating environment protection under the umbrella of urban planning and development), Scott subverted urban planning to economic development under the banner of the Department of Economic Opportunity. In the process, Scott managed to make it look like he was doing something while actually protecting the special interests (ah, a real politician!) that made the Florida housing market the 'birthplace of the Second Great Depression.'
Florida's Department of Cities idea is not without merit but the implementation of that idea must warrant the importance Florida places on our "cities and metros (as) the engines of our economy," which, of course, is their very nature as built environments designed for movement, interaction, and transaction. Otherwise, implementing Florida's idea would be a waste of time, effort and money; what many believe is referred to as "governing" in Washington, D.C.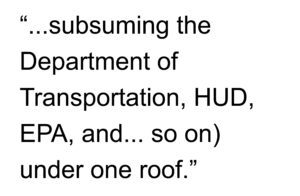 The only way a Federal Department of Cities could alter the prevailing development paradigm in this country for the last century is if we are willing to place Smart Growth for our cities at the top of the agenda by subsuming the Department of Transportation, Department of Housing and Urban Development, Environmental Protection Agency, and other disparate Federal agencies and offices (Office of Urban Affairs, and so on) under one roof. Incidentally, this is probably the only way a new Department of Cities could generate bipartisan support by allowing the left and the right to explicitly address their key constituencies (urban interests on one hand, reducing and streamlining government on the other). It would also require both parties adopting an united front to take on other special interests threatened by such reform (most obviously, radical environmentalists). In the absence of such radical thinking, our cities are safer as "laboratories for pragmatic bipartisan policy innovation, pioneering new approaches on everything from schools, crime and gun control to economic development" at the local and State level.
The problem is not that our cities have failed to live up to our ideals. The real problem is everybody associated with city building (architects, developers, urban designers and planners and so on) have not not lived up to the opportunities presented by our cities for the last century.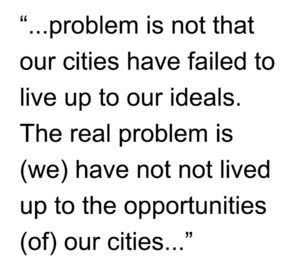 Why would we expect our citizens (and their representatives) to ever trust us and put us in charge when we have demonstratively failed our cities time and time again during their lifetime, their parents' lifetime, and their grandparents' lifetime? Instead of searching for magic bullets (like Florida's idea), let us dedicate ourselves to leading for our cities. The irony is, if we truly did this, we would probably find the perceived need for Florida's proposal and others like them would disappear. Unless, of course, the point is to become one of the fattest pigs at the trough. If this is the case, then never mind…