"Even old New York was once New Amsterdam,
Why they changed it, I can't say,
People just liked it better that way."
— Istanbul (Not Constantinople), They Might Be Giants (BTW, now in San Francisco)
Maybe you were expecting this…
"These vagabond shoes are longing to stray,
Right through the very heart of it: New York, New York."
— New York, New York, Frank Sinatra
Urban Patterns | New York, New York USA
by Dr. Mark David Major, AICP, CNU-A
New York is the most populous city in the United States. With an estimated 2016 population of 8,537,673 distributed over a land area of about 302.6 square miles (784 km2), New York City is also the most densely populated major city in the United States. Located at the southern tip of the state of New York, the city is the center of the New York metropolitan area, one of the most populous urban agglomerations in the world. New York City exerts a significant impact upon commerce, finance, media, art, fashion, research, technology, education, and entertainment around the world; its fast pace defining the term "a New York minute." Home to the headquarters of the United Nations, New York is an important center for international diplomacy and has been described as the cultural, financial, and media capital of the world. Dutch merchants and settlers originally founded New York (originally named New Amsterdam) – along with three other Dutch forts in present-day New York State – on Manhattan Island at the conflux of the Hudson and East Rivers into a natural harbor at Upper New York Bay in 1625. As evidenced in the Castello Plan (see below), the early settlement was composed of small-scale offset regular-ish grids oriented to the shoreline of the Hudson and East Rivers at the southern tip of Manhattan Island (Source: Wikipedia).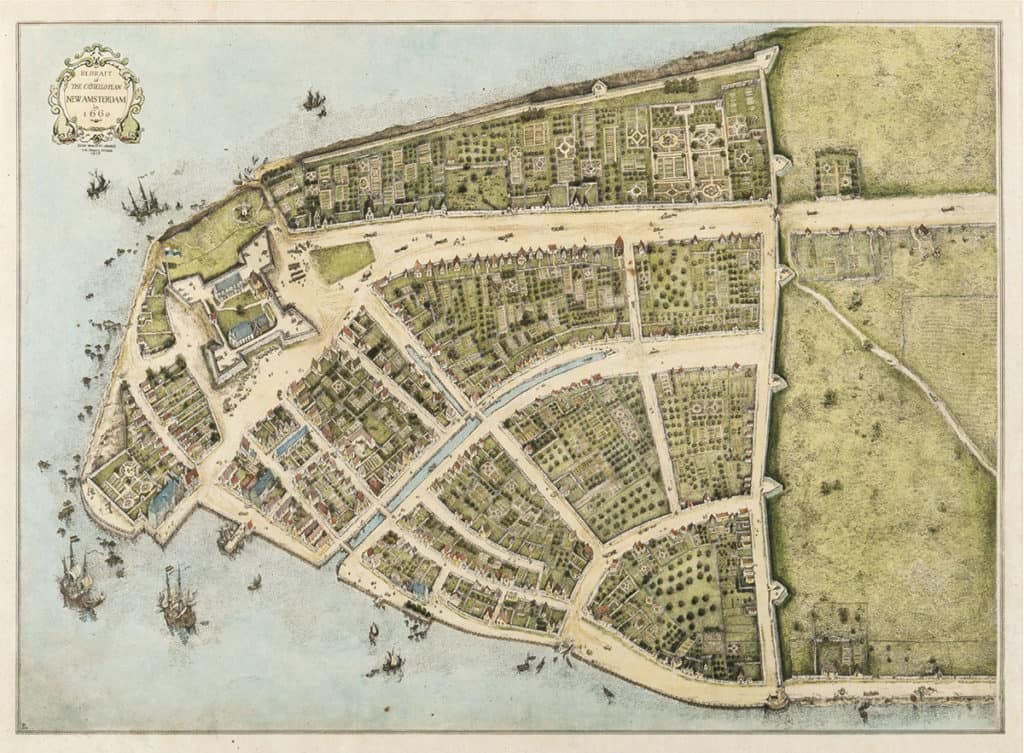 Over the first 100 years of the settlement, this geometric layout (in the modern Wall Street area) evolved into a classic, European deformed grid pattern. In planning terms, Manhattan is probably best known for the 1811 Commissioners Plan (see here for more information), which imposed a gridiron over most of the island north of the Wall Street area.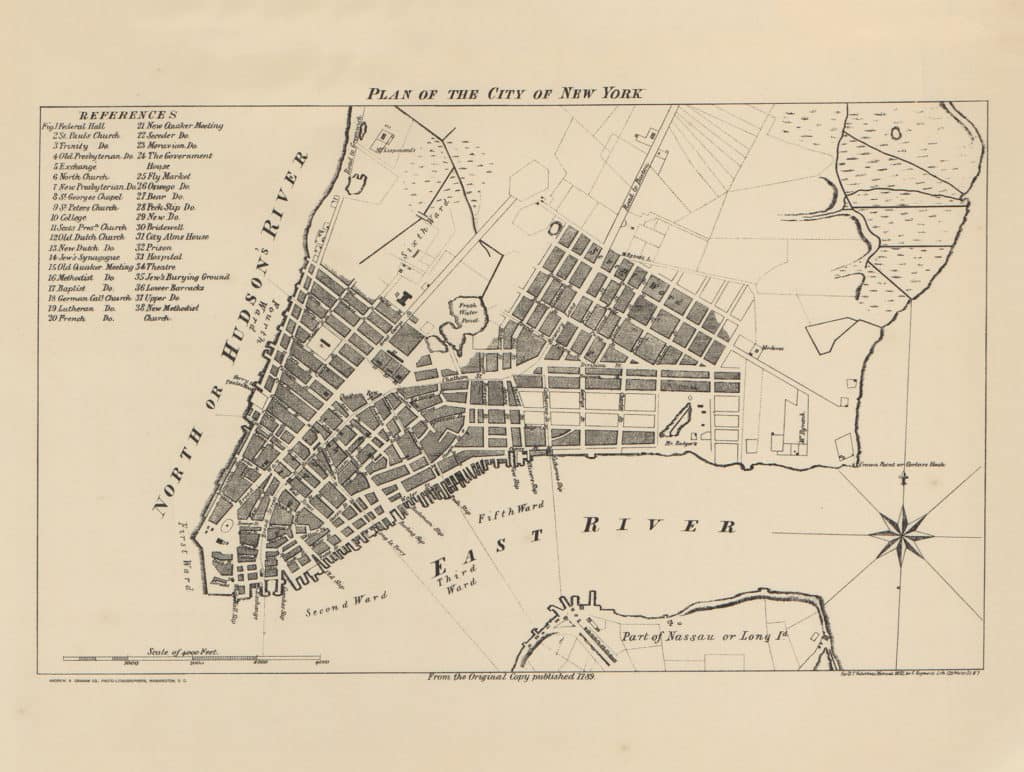 However, as evidenced by historic plans of New York such as the 1789 plan of southern Manhattan (see above), this gridiron was really an extension of an already-existing regular grid immediately north of that area, predating the Commissioners Plan by two decades.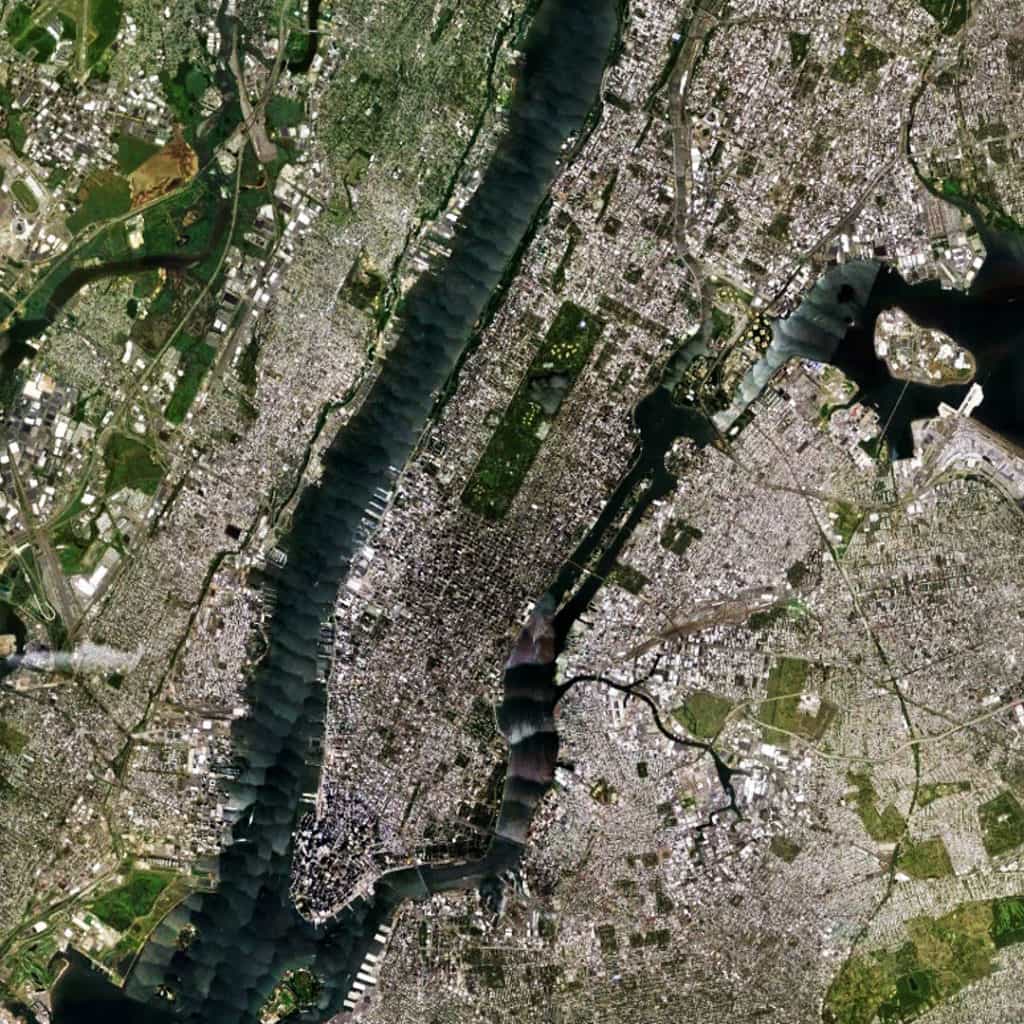 The overall linear (more or less, south to north) shape of the island was well-suited for regular grid extension, especially in the middle portion of the island around Central Park. At 843 acres, Central Park (designed by landscape architect Frederick Law Olmsted and the English architect Calvert Vaux) is still one of the largest urban parks in the world and the most visited park in the United States. Architects and planners often discuss the planning of Manhattan to the exclusion of its larger urban context (especially in discussing the 1811 Commissioners Plan). However, the island is well-embedded within its larger urban context, possessing some 19 bridge and tunnel connections to the surrounding area, especially to the north of the island where 12 (63%) of these connections are available.
(Updated: August 14, 2017)
Urban Patterns is a series of posts from The Outlaw Urbanist presenting interesting examples of terrestrial patterns shaped by human intervention in the urban landscape over time.