A True Story about Shit
by Dr. Mark David Major, AICP, CNU-A, The Outlaw Urbanist contributor
Today, I found myself in single-family suburban sprawl hell, somewhere in Northeast Florida, with my dog, Izzy. The reason is unimportant. However, being a dutiful dog, Izzy indicated she needed to go for a walk. (Note: She is 4 years old next month and the cutest dog with the sweetest disposition… but that's beside the point). So, I hooked her to the leash and started to walk her through a neighborhood, which is the very definition of suburban sprawl. Yes, there was not any street inter-connectivity and we have to retrace our route into this neighborhood, giving us the "pleasure" of seeing the same Mega Mediterranean homes not once but twice. Of course, the homes are only Mega Mediterranean along the front yard facades. Along the side yards, the true nature of the homes as basic wood frame construction with really cheap siding, sitting on 1/4 acre lots, is obvious. Most of the lawns were neatly manicured with St. Augustine grass (by the way, not really a grass… it's a weed but whatever), as one might expect. In spending about 20 minutes in this neighborhood, I passed about a half of dozen people at 6:00 pm in the evening. None of these people said hello.
In fact, only one person spoke to me. After Izzy had done 'her business' (meaning she pooped) in a front yard and I was bending down with my doggy poop bag to pick it up, a woman came rushing out of her house to tell me, "I don't like dogs pooping in my yard." I looked at her incredulously and replied, "I'm picking it up." She said (and I'm not kidding), "I know but I spent a lot on money on this yard and I don't want it messed up by dogs pooping in it." As you might expect, I stared in shock at this woman like she was a crazy person. She did not make her political position on urine clear to me. I pointed out, "it's fertilizer." She then added, "I know but I have dogs too and I don't let them poop in my yard." I'm not sure but this may have been a 'suburban code', meaning 'I make sure my dogs poop in the neighbors' yards.' I replied,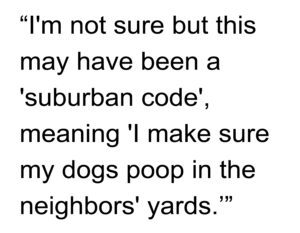 "Call the police, I'm sure it must be a crime," turned around and walked back the way we came out of the neighborhood, all the while dutifully carrying my doggy poop bag and carefully navigating through multiple piles of dog shit in the neighborhood common areas. Needless to say, Izzy and I will never be walking in that neighborhood again (not that it was ever likely anyway).
My normal experience in a historic, traditional neighborhood has always been when Izzy poops in someone's yard, I dutifully pick it up and, if it is noticed, the homeowners usually say, "thank you." Suburban sprawl breeds intolerance of the stranger and the unfamiliar… and, apparently, acute cases of coprophobia (an irrational fear of feces).