Transportation Secretary on Spending Binge Before Leaving Office | Planetizen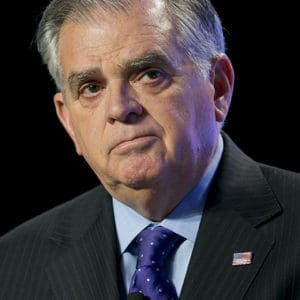 In February 2013, outgoing US DOT Secretary Ray LaHood was bemoaning the need for an additional $15 billion a year to fix potholes (see The Outlaw Urbanist post, "The Weight of Debt," 2/7/13). Two months later, LaHood is apparently spending money like a drunken sailor in a whorehouse (no offense to sailors… or whores), throwing out $1.5B in grants like it was candy (10% of the total amount he previously said was desperately needed to fill potholes). Now, I'm sure local mayors and governments do, indeed, appreciate the largesse from DoT but there's something incredibly unseemly about this situation.
From the article:
"LaHood is pushing the limits of his power. He recently earmarked $100,000 for the construction of a one-eighth scale miniature railroad in the backyard of his private home."
See what I mean? The American taxpayers' money at work on behalf of Ray LaHood. Surely, that has got to be illegal? Right? Generally, this is how you book a reservation at the Illinois Governors' Memorial Wing of the United States Penitentiary in Marion, Illinois.
You can read the full article here: Transportation Secretary on Spending Binge Before Leaving Office | Planetizen