The American City, Part 1 | A Brief History of the Regular Grid featuring Dr. Mark David Major is now available from Planetizen Courses. The course is approved for 0.75 professional development credits with the American Institute of Certified Planners (AICP) and Congress for New Urbanism (CNU) Watch an extended preview below.
The American City, Part 1 | A Brief History of the Regular Grid
The course is about the when, where, and why of regular grid planning around the world—from Ancient India to the New World—arguing that its independent emergence in different parts of the world is a generic consequence of placing dwellings in a settlement. The transmission of the regular grid, traceable from one society to another over the last 4,500 years, also demonstrates its effectiveness as a utilitarian tool for planning. The course concludes by reviewing the myths surrounding the regular grid, including its role in fostering the ideals of the American Dream.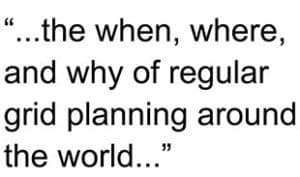 The objective of this course is to understand how and why the regular grid has been a standard part of the town planning vocabulary around the world for nearly five millennia.
Click here to purchase the course by subscribing to Planetizen Courses.