"The American City" Track (3.25 credits)
Many people see American cities as a radical departure in the history of town planning because of their planned nature based on the geometrical division of the land. However, other cities of the world also began as planned towns with geometric layouts so American cities are not completely unique. Why did the regular grid come to pervasively characterize American urbanism? Are American cities really different? "The American City" answers these questions and much more by exploring their urban morphology. In some ways, American cities are unique including a strong historical preference for geometric regularity in town planning, which endures to this day.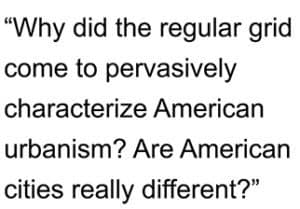 However, in more important ways, American cities are still subject to the same processes linking street networks and human use found in all cities of the world.
Part 1: A Brief History of the Regular Grid
Part 2: The Invention of a New Scale
Part 3: Learning from the Grid
Part 4: Complexity and Pattern in the City
Featuring Dr. Mark David Major, AICP, CNU-A. Click here to purchase this Planetizen Courses track.