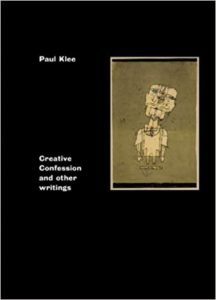 FROM THE VAULT | Creative Confessions and other writings by Paul Klee
by Dr. Mark David Major, AICP, CNU-A, The Outlaw Urbanist contributor
Creative Confessions is a series of short essays (vignettes, really) by Modern abstract artist Paul Klee (1879-1940) on art and composition, which the artist wrote while teaching at the Bauhaus in Germany during the 1920s with a postscript essay by the editor, Matthew Gale. In this, it is a thought-provoking read that can be managed in a single sitting (in a real sense: perfect for the Internet Era). It is stuffed full with quotes that have direct bearing on composition in art ("art does not reproduce the visible; rather, it makes visible"). However, Klee's vignettes also carry (perhaps indirect) importance for composition in architecture and urban planning. For example, "a tendency towards the abstract is inherent in linear expression" when you think of this concept in terms of movement in the city. When Klee discusses "the formal elements of graphic art are the dot, line, plane, and space – the last three charged with energy of various kind", we can easily translate this into built environment terms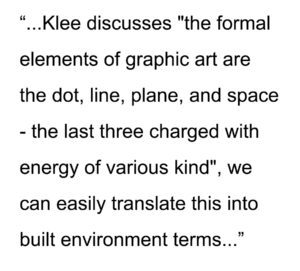 (dot=location, line=axis of movement, plane=convex space, and space itself is self-explanatory). Klee means this in terms of the energy of artistic gesture but we can also easily understand how these things in an urban environment are similarly 'charged with energy' in terms of movement, avoidance, and encounter.
Indeed, it is easy to make transitions such as these from art to architecture/planning since Klee himself tends to express these ideas in terms of movement/counter movement in encounter and vision, i.e. a journey across "an unploughed field" or crossing a "river" or "walking across the deck of a steamer", which are described in terms of linear expression. Klee's explicitly acknowledges this, arguing that "movement is the source of all change" and "space, too, is a temporal concept." "When a dot begins to move and becomes a line, this require time." In planning terms, we can think of this as our location in space changing by the action of our movement and thus our experience of space evolves with that movement. This is not only expressed in terms of geospatial reality but also in time since we, as human beings, are bound in space and time.
"Movement is the basic datum" of the universe, Klee tells us. In understanding this (in art as well as the science of urbanism), we can "reveal the reality that is behind visible things".  Klee argues "the object grows beyond its appearance through our knowledge that the thing is more than its outward aspect suggests". Indeed, in discussing art, is Klee begins to tap into the inherent nature of observation and science itself.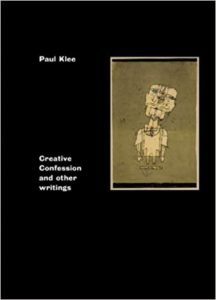 Creative Confessions and other writings
by Paul Klee (Matthew Gale, Editor and Postscript)
32 pages
Tate; Act edition (May 6, 2014), London UK
You can purchase Creative Confessions and other writings from Amazon here.
Check out the Artsy.net Paul Klee page here.
From the Vault is a series from the Outlaw Urbanist in which we review art, architectural and urban design texts, with an emphasis on the obscure and forgotten, found in second-hand bookstores.