Following the Crowd | Movement, Space Use, Risk Management examines movement, congregation and space use in crowd phenomenon based on two studies in London during the late 1990s. The first was New Years Eve celebrations in central London and the second is the 'Diana phenomenon' of crowd gatherings in public displays of mourning in Kensington Gardens. The course argues two points. First, clearly, there are crowd characteristics particular to specific events, i.e. number of people, time factors, and crowd management measures.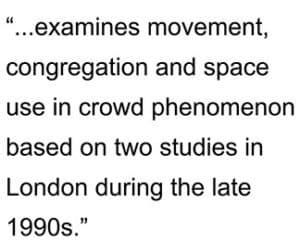 Second, many crowd characteristics often represent only a dramatic, temporary intensification of everyday circumstances in urban conditions, which has implications for recent pedestrian-oriented design concepts such as shared space (2.0 hour course).
NOTE: This course makes selective use of space syntax. Even if you are not familiar with space syntax, the subject matter should not be considered a deterrent.
Key concepts: crowds, movement, occupation, police, risk management, urban design.
Instructor: Dr. Mark David Major, AICP, CNU-A
Check here to purchase this  course (FREE registration required), which includes an two hour video presentation and PDFs of the course supplementary materials and slide handout.