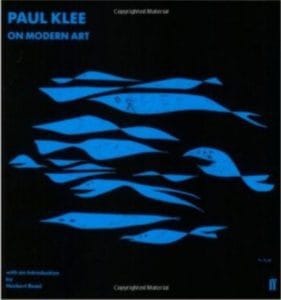 FROM THE VAULT |  Paul Klee on Modern Art
by Dr. Mark David Major, AICP, CNU-A, The Outlaw Urbanist contributor
Paul Klee on Modern Art (with Introduction by Herbert Read) is the text of a lecture delivered in 1924 at the opening of a museum exhibit of modern art (thus it reads in the first person). It is a series of brief commentaries on the Modernist creative process. Herbert Read's brief but excellent introduction is an enlightening, concise summary of Klee's intent in the lecture as well as the difficulties some readers might encounter while reading the text. Because Klee focuses on the creative process, he looks inward rather than outward (as he did in Creative Confessions), which gives the text a bit of an ego-centric viewpoint. In this sense, Modern Art is really about the artist in the world (in this case, Klee himself). Klee's explicit reservations about speaking about his art also tends to make Modern Art feel somewhat defensive.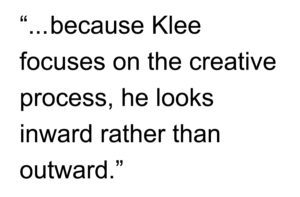 Because of this, Modern Art is not as rich with interesting observations, concepts and quotes that might find a common expression in architecture or urban planning (except perhaps its worst excesses, i.e. the architectural genius). Indeed, some of Klee's text seems to pull back on his thoughts in Creative Confessions. For example, he states "line is the most limited", which seems to contradict the 'inherent energy' he discussed in the other work. Instead, he shifts his focus to tone and color as an unmeasurable 'quality' in art, with explicit references to 'mood' in the artist and the emotions provoke in the character of a piece of art. In this sense, Modern Art represents a counter (and lesser) movement to Creative Confessions, of more limited application outside the realm of the artistic compulsion itself where there is "more value on the powers (i.e. the artist) which do the forming than the final forms themselves" residing "in the womb of nature" where the artist literally becomes a God himself in a creative act of genesis.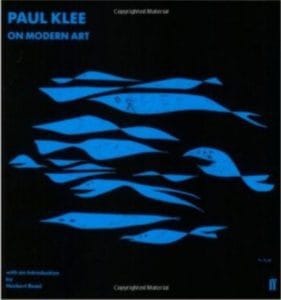 Paul Klee on Modern Art
by Paul Klee (with Introduction by Herbert Read)
55 pages
Faber and Faber Ltd. London. Paper Covered Editions (1967)
You can purchase Paul Klee on Modern Art from Amazon here.
Check out the Artsy.net Paul Klee page here.
From the Vault is a series from the Outlaw Urbanist in which we review art, architectural and urban design texts, with an emphasis on the obscure and forgotten, found in second-hand bookstores.