The American City, Part 2: The Invention of a New Scale featuring Dr. Mark David Major is now available from Planetizen Courses. The course is approved for 0.75 professional development credits with the American Institute of Certified Planners (AICP) and Congress for New Urbanism (CNU).
Watch an extended preview here.
The American City, Part 2 | The Invention of a New Scale
The course covers subjects related to land consumption, which has been a defining characteristic of American town building almost from the very beginning of colonization until the present-day. William Penn's 1682 plan for Philadelphia demonstrated town building could occur on a previously unimagined scale in the abundant lands of the New World.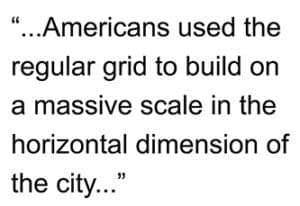 The course also compares the characteristics of block and street length in several American and European cities to demonstrate how Americans used the regular grid to build on a massive scale in the horizontal dimension of the city, which suburban sprawl has accentuated and abused since World War II. Finally, the course also discusses implications for sustainable cities in the 21st century.
Click here to purchase the course by subscribing to Planetizen Courses.