The American City, Part 3: Learning from the Grid featuring Dr. Mark David Major is now available from Planetizen Courses. The course is approved for 0.75 professional development credits with the American Institute of Certified Planners (AICP) and Congress for New Urbanism (CNU).
Watch an extended preview here.
The American City, Part 3: Learning from the Grid
The course covers the formal composition and spatial process of the American urban grid. The course demonstrates a well-defined spatial logic to how American cities tend to evolve over time, conserving the importance of the "center" (e.g., historical area and/or Central Business District) in relation to the ever-expanding edges.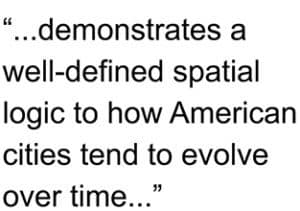 By understanding these concepts, we can better understand how "bedrock" urban attributes (such as block size and dwelling entrances) and common growth trends (such as strip malls and leapfrog development) play a role in the spatial logic of American cities. The objective of this course is to better understand the spatial implications of design decisions when intervening in the American city.
Click here to purchase the course by subscribing to Planetizen Courses.