Part 1 of the Architecture and Film course series, "Do Architects Dream of Celluloid Buildings?" (2.0 hour) reviews the seductive correspondence between cinema and architecture. Over the last four decades, the film-architecture analogy and startling technological advances, mostly deriving from computer science, have blurred the distinction between cinema and architecture. Collectively, this tends to obscure the most important aspect, which is architecture's impact on the dual aims of cinema, e.g. narrative and technology. Part I reviews the conceptual, historical and technological relation between cinema and architecture.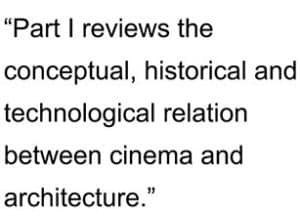 The "Architecture and Film" course series more closely examines the frequent role of the built environment in creatively reinforcing or subverting expectations of the audience about cinematic narratives. Click here to purchase this course ($14.99).
Key concepts:  analogy, cinema, language, narrative, representation, technology.
Includes a two-hour video presentation and PDFs of the course supplementary material and slide handout.
Part 1 Film and Television Topics
The Wizard of Oz, A Trip to the Moon, Game of Thrones, Star Wars, The Hunger Games, Friends, New Girl, Planet of the Apes, Alice in Wonderland, Star Trek, To Kill a Mockingbird, Back to the Future, Westworld, When Dinosaurs Ruled the Earth, Jurassic Park, The Wedding Singer, The Terminator, Babylon 5, Captain America, Avatar, Battlestar Galactica, It's a Wonderful Life, Zelig, Forrest Gump, Jupiter Rising, Toy Story, Tron, Resident Evil, Total Recall, The Matrix, A Scanner Darkly, Contagion, American Psycho, Metropolis, Blade Runner
Please note there may be a delay for a couple of hours before you are able to access the course because we have to confirm receipt of payment for each order before completing the purchase.
About the Instructor
Dr. Mark David Major, AICP, CNU-A is an architect and planner with extensive experience in urban planning and design, business management and real estate development, and academia. He is a Professor of Urban Design at the Savannah College of Art and Design. Mark has been a visiting lecturer at the University of Florida, Georgia Tech, Architectural Association in London, the University of São Paulo in Brazil, and Politecnico di Milano in Italy.